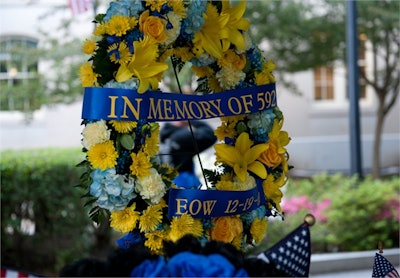 The number of officers shot and killed by suspects over the first half of 2015 is down substantially at 16 from the 23 officers killed over the same period last year, according to records kept by the Officer Down Memorial Page.
Some, like Sonny Kim of the Cincinnati Police Department, were shot and killed while responding to 911 calls. Terence Green, a Fulton County, Ga., police detective and the first officer to be fatally shot this year, was searching a neighborhood after a report of gunfire March 4, police say, when Amanuel Menghesha shot him.
Others were serving arrest warrants when the suspect in question opened fire. Kerrie Orozco, an Omaha police officer, was shot and killed while she and other officers were serving an arrest warrant in a different shooting. Orozco, 29, was hours away from beginning maternity leave when she was killed.
Overall, though, statistics suggest that being a police officer has gotten much safer over the past few decades. While the FBI reported this year that the number of officers killed in the line of duty nearly doubled last year over the year before — rising to 51 — that number still dramatically falls below what the country saw in previous decades, the Washington Post reports.