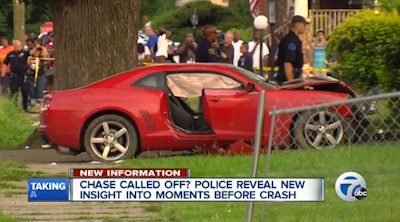 Last week's high-speed police pursuit that left two children dead and three other kids injured in an east-side Detroit neighborhood has some officials and organizations calling for tighter policies governing when and why officers may initiate a chase.
National statistics show Michigan — which averaged more than two deaths a month last year in police chases — is one of the deadliest states when it comes to the number of people killed in pursuits.
Pursuit policies vary greatly among state, county and local police agencies in Michigan. Detroit's policy, which outlines restrictions over when a pursuit may be initiated, is relatively restrictive in comparison with the Michigan State Police, which leaves it up to the discretion of the individual trooper, the Detroit Free Press reports.
In last Wednesday's incident, a driver running from Detroit police sped into a residential neighborhood, where the car jumped a curb, ran over two small children on scooters, careened into three more kids and plowed into a house. The two children on scooters were killed and the others injured, one critically. The driver was arrested.
Related:
Video: Suspect Fleeing Detroit Police at High Speed Hits 6 Children, Kills 2