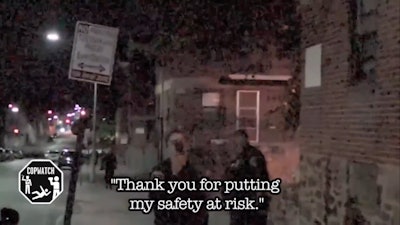 On a sultry West Baltimore night, six police officers walked down a concrete courtyard of Gilmor Homes — while self-styled "cop-watcher" David Whitt held up his camera and pushed the record button.
One officer confronted him, asking, "Do you have I.D.?"
"Am I being detained?" Whitt shot back.
As the heated confrontation continued, the officer took out a cellphone camera, held it up to Whitt and repeated, "Do you have I.D.? Do you live here? Because if not, you're trespassing."
After Whitt responded, saying he had a right to film police, the officer walked away, telling him, "Thank you for putting my safety at risk. I appreciate it. You're also putting your safety at risk by following me."
The scene illustrates the tension-filled encounters playing out in Baltimore and across the nation, as camera-toting residents seek to document police activity, the Baltimore Sun reports.