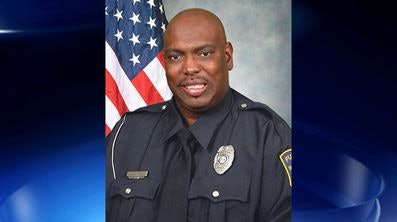 A veteran Fulton County, Ga., police officer was shot in the head and killed early Wednesday in what the assistant chief described as an ambush-style attack
He has been identified as Terence Avery Green, a 22-year veteran of the Fulton County Police Department, according to Channel 2 Action News.
The shooting happened around 1 a.m. near the Atlanta suburb of Fairburn, the Atlanta Journal-Constitution reports.
The officer was among several responding to a call that shots had been fired inside the home.
By the time officers arrived, the gunman had left the home and was roaming the neighborhood, the station reported. The officers were immediately fired upon, and as they ran for cover, one was shot in the back of the head, according to Channel 2. A second officer was also hit, but the suspect's bullet struck his duty belt area, shattering his police radio but not wounding the officer, the station reported.
Other officers returned fire, wounding the suspect, according to Channel 2. The suspect has been identified as Amanuel Menghesha. He is in custody and being treated at a local hospital.
The Officer Down Memorial Page report that Green is the first officer killed by gunfire in 66 days.