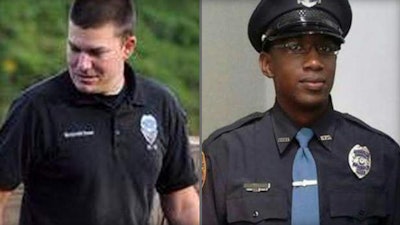 Two slain Hattiesburg, Miss., police officers were remembered Monday during a ceremony held for the grand opening of the state's new crime lab in Pearl.
As part of the ceremony, the U.S. flag was lowered to half-staff to honor officers Benjamin Deen, 34, and Liquori Tate, 25, who were shot and killed late Saturday during a traffic stop, WAPT TV reports.
One of the slain officers was shot in the face and the other under his vest, according to Commissioner of Public Safety Albert Santa Cruz.
Police arrested Marvin Banks, 29, and Joanie Calloway, 22, each of whom is charged with two counts of capital murder, said Warren Strain, a spokesman for the Mississippi Department of Public Safety. Banks' 26-year-old brother, Curtis Banks, has been charged with two counts of accessory after the fact of capital murder.
Cornelius Clark, 28, of Hattiesburg, was arrested Sunday and charged with obstruction of justice, according to Strain.
The U.S. flag flew at half-staff outside the Hattiesburg Police Department, and red roses placed on a concrete sign wilted under the hot afternoon sun.
For many in the small Mississippi community of Hattiesburg, the first death of an officer in the line of duty in three decades was a shock.
Before Saturday's shootings, the last Hattiesburg officer who died in the line of duty was Sgt. Jackie Dole Sherrill, who was killed on New Year's Eve 1984 while trying to serve a warrant on a suspect.
Related Articles:
2 Mississippi Officers Slain at Traffic Stop, Suspects in Custody
Mississippi Subway Worker Fired for Celebrating Murders of Hattiesburg Officers