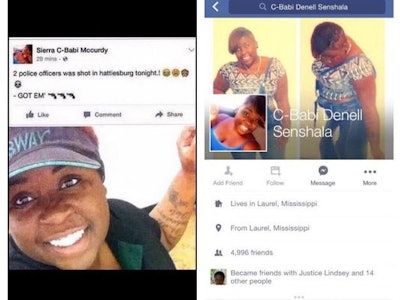 An employee at a Laurel, Miss., Subway has been fired after she celebrated on social media the shooting deaths of two Hattiesburg police officers Saturday night.
The Facebook posts were accompanied by a photo of her wearing a Subway employee's uniform.
"Two police officers shot tonight in Hattiesburg," read the post by someone who identified herself as C-Babi Denell Senshala and as Sierra McCurdy. "GOT EM," it said later. The missives were supplemented by emojis depicting a handgun and laughter.
"This kind of behavior is unacceptable and does not represent the values and ethics of our brand," a Subway spokesperson said in an email to The Clarion-Ledger. "The unfortunate choice of one individual should not reflect on the more than 400,000 honest, hardworking Sandwich Artists worldwide. The franchisee has terminated the employee, effective immediately."
Officers Benjamin Deen, 34, and Liquori Tate, 25, were killed Saturday night during a traffic stop. Two have been charged with two counts of capital murder; a third suspect has been charged with accessory after the fact; and a fourth has been charged with obstruction of justice.
Related Articles:
2 Mississippi Officers Slain at Traffic Stop, Suspects in Custody
Slain Mississippi Officers Mourned, 4 Suspects to Appear in Court