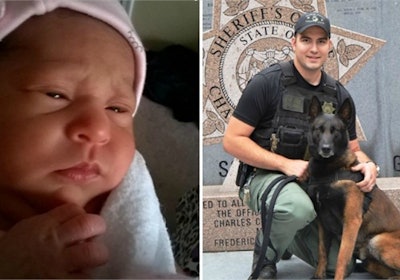 A Charles County police officer saved the life of a 10-day-old infant in Waldorf, Md., last Friday, reports WJLA.
Officer Darin Behm responded to a report of a baby having trouble breathing. He placed his mouth over the baby's nose and mouth and gently sucked until a large chunk of formula, about the size of a dime and covered in thick mucus, finally came out, according to police. The baby's chest then began to rise and fall and her breathing resumed.
The infant's mother said she was extremely grateful to Behm, who "took control in a hectic situation" and helped her baby girl, a twin, breathe again.
Behm, himself a father to a 2-year-old boy, said his only thought was to clear Dana's airway.
"I'm glad I was able to help," he said. "It's what we do."