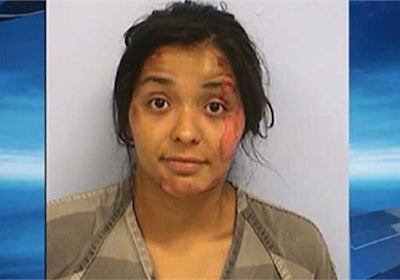 Police arrested a woman Thursday after they say she attempted to gouge out the eyes of an Austin Police officer. Nineteen-year-old Savannah A. Mata is charged with assault on a peace officer, a third degree felony, reports KMPH.
Austin Police responded to a disturbance call at 9616 N. Lamar for a female wielding a machete, yelling at people. Police also received a call from the same location that a woman was banging on a window of a business, yelling at the employees.
When the officer arrived, Mata reportedly ignored the officer's instructions. According to the affidavit, Mata began punching and scratching the officer, then attempted to gouge the officer's eyes out.
As other officers arrived, the original officer had to punch Mata several times in the stomach in order to gain control and get her into handcuffs. While the three officers were attempting to get Mata in the back seat of the patrol car, the affidavit states she reached for one officer's TASER and kicked another officer in the stomach.
One of the officers was treated at the scene by EMS for scratches and punches to the face.