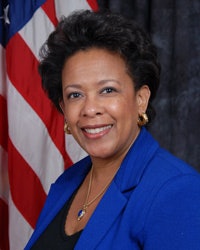 Attorney General Loretta Lynch voiced strong support Monday for the country's police officers, praising them as peacemakers and encouraging them to be part of the national conversation about improving relationships with minority communities, reports the Associated Press.
In her address to the national Fraternal Order of Police in Pittsburgh, Lynch voiced unequivocal support for law enforcement as she sought to reassure officers that she understood the challenges that they face. She praised them for running toward danger when others head in the other direction and for "working to maintain the peace."
"Thank you for being the peacemakers," Lynch said.
She acknowledged that the public sometimes makes assumptions about police officers, but said that was why law enforcement needs to speak proudly about the work it does.