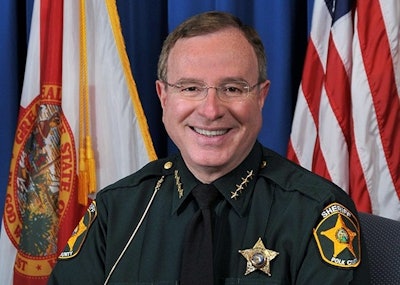 A man who claims he was denied entry to a shelter unless he underwent a background check is suing Polk County, FL, Sheriff Grady Judd, who got national attention after saying on Twitter he would jail anyone with an outstanding warrant who tried to seek shelter from Hurricane Irma.
Judd called the lawsuit "frivolous" and said he would not change his policy, reports the Orlando Sentinel.
The sheriff said his stance was to prevent registered sex offenders from entering shelters. But the suit filed by immigrant rights group Nexus Services states Florida driver's licenses already clearly mark someone as a sex offender. They claim the policy was discriminatory and violates Fourth Amendment rights against unlawful search and seizure.
The suit, which attorney Cynthia Conlin said was electronically filed Sunday but hadn't yet been processed by the 10th Judicial Circuit Court, claims Andres Borreno of Virginia was told by Polk County deputies he would have to submit to a criminal background check before he was able to enter a shelter Saturday. The suit doesn't say if Borreno had an outstanding warrant.
Judd said Sunday "They filed that lawsuit for free press and it's obviously frivolous. I have a nationwide profile and they see it as an opportunity for nationwide press."
Judd said Borreno wasn't treated differently than others seeking shelter. He was offered shelter at the jail and was offered a ride. Judd said he didn't know if Borreno went to the shelter.