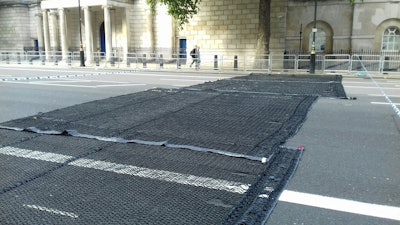 Scotland Yard is deploying the latest in anti-terrorism equipment designed to thwart vehicle attacks: a futuristic net bristling with tungsten steel spikes that security forces can quickly lay down like a carpet on a roadway.
Called "Talon" by London's Metropolitan Police, the barbs are designed to puncture and grip the tires, while the plastic netting becomes entangled in the vehicle's front wheels, bringing the driver to an abrupt stop.
Metropolitan Police deployed Talon for the first time at a parade by active-duty sailors and naval veterans in the Whitehall section of central London on Sunday. Authorities say the barbed mats are "likely to become a familiar sight at events that attract large crowds in London."
Police said the road-top mats can be deployed by just two officers in less than one minute and can effectively stop vehicles heavier than a London double-decker bus. "The speed and low manpower required for deployment means that the nets can be relocated very quickly if necessary," a police spokesman told the Washington Post.