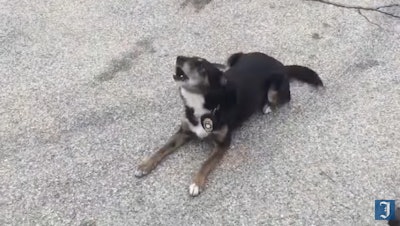 Before she was a year old, Ruby had been returned to an East Providence, RI, animal shelter four times. She was unmanageable, aggressive toward children and other pets, and came within two hours of being destroyed.
Each time Ruby was returned to the East Providence shelter of the Rhode Island Society for the Prevention of Cruelty to Animals, volunteer dog trainer Patricia Inman worked with her to make her more adoptable.
Inman, who runs Lazybones Dog Training in Chepachet, saw potential in Ruby despite her problem behaviors.
"She did not have an off switch," Inman wrote in a Facebook message. "She was too much dog for most families."
But she wasn't too much dog for the Rhode Island State Police, at least not after lots of training.
Trooper Daniel O'Neil remembers Ruby as "just crazy. Just bouncing off the walls."
For the next four months, O'Neil said, he didn't let her out of his sight for a second. They were inseparable. She came along on his four- or five-mile runs. He brought her to work, even though she wasn't yet a police dog. They bonded. "The dog has to really love you to work for you," he said.
"She made a miraculous transformation," Warzycha told the Providence Journal.
Last October, after the Glocester police had searched 24 hours for a missing teen, they asked for help, and the state police sent Ruby, now an RISP K-9, and O'Neil and another team. "We were a mile and a half into the woods when Ruby all of a sudden quickly darted," O'Neil said. "Sure as anything, we came around the corner, and the young man had fallen and hit his head and was severely injured. She was sitting there licking his face. She was trying to revive him."
The teen's mother, who believes that Ruby saved her son's life, is Patricia Inman, the trainer who helped save Ruby's life.
Ruby is one of nine candidates in the search and rescue category for the American Humane Hero Dog Awards. People can visit the website at herodogawards.org/dog/ruby/ and vote once a day in each of seven categories until 3 p.m. ET April 25.