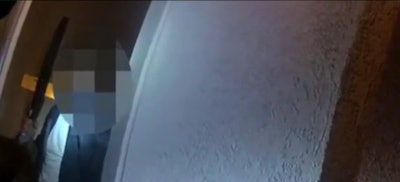 VIDEO: Colorado Department Releases Footage of Fatal OIS
The Fort Collins (CO) Police Department released body camera video Friday that recorded the moments when officers shot and killed a shotgun-wielding murder suspect inside a hotel room.
The video shows officers approaching the hotel room during the early morning hours of October 1, 2017.
Officers responded after a man called 911 to say someone shot a hole in the ceiling of his hotel room. When they arrived, a woman told officers her 3-year-old daughter was inside the hotel room with a man named George.
After multiple knocks, that man finally answered the door with the shotgun in hand.
Officers gave numerous commands to drop the weapon that the suspect ignored, and then the officers fired, KDVR TV reports.
Investigators say George Newman, 26, was a suspect in the murder of a woman a few days earlier.