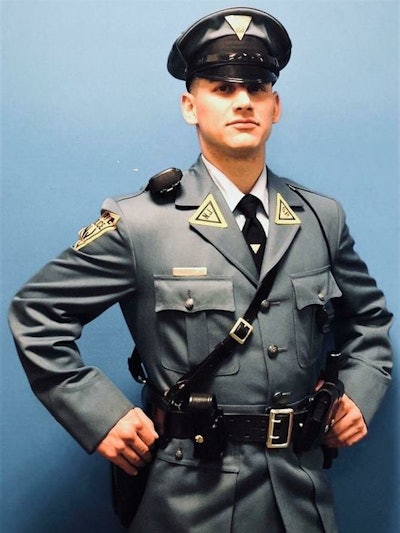 A rookie New Jersey state trooper is being credited with saving an accident victim by using part of a tree branch and a T-shirt to make a tourniquet, reports the Courier Post.
Trooper Kenneth Minnes was off duty when he came across a serious one-car crash on the Atlantic City Expressway in Gloucester Township around 2:30 Monday, according to a report.
With the assistance of others who stopped to help, Minnes moved the injured pair away from the car before it became fully engulfed in flames. He then tended to the car passenger's bleeding, injured arm by applying a makeshift tourniquet using a shirt and branch.
A description of the incident on the NJ State Police Facebook page offered praise for Minnes: "Despite just graduating the State Police Academy last year, Tpr. Minnes displayed the poise of a veteran and his decisive actions helped save the victims' lives."