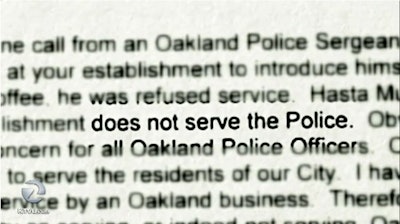 VIDEO: California Cafe Won't Serve Police Officers
A new café in Oakland, CA, is refusing to serve law enforcement officers as a matter of policy, reports KTVU.
It all started when an Oakland police sergeant stopped by Hasta Muerte Coffee in the Fruitvale District of the city to introduce himself and to buy a cup of coffee, but the sergeant was denied service.
According to a letter sent to the café by the Oakland police union, café staff told the sergeant that it "does not serve the police. Obviously, this is both a surprise and a matter of concern for all Oakland police officers."
The café is a worker-owned collective with a decidedly anti-establishment bent. A mural outside the café decries fatal police shootings and law enforcement militarization.
Oakland City Councilmember Noel Gallo, who represents the Fruitvale District, spoke to cafe managers Thursday and confirmed it's still the business' unwritten policy not to serve police officers.