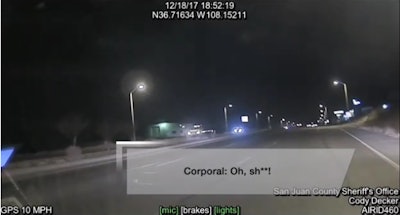 VIDEO: Drunk Girl Steals and Crashes New Mexico Sheriff's Vehicle
A drunk teenage girl reportedly stole a San Juan County (NM) Sheriff's patrol vehicle. She then took the vehicle on a wild ride, before crashing it into a ditch.
It all started on Bloomfield Highway in Farmington back in December. A corporal got a call about 16-year old Samaria Gray staggering down the highway and then laying down on the shoulder.
That's when the teen's mom showed up and told the corporal she was having trouble with her daughter's drinking habits.
"I'm going to have you sit in my truck for now while I go talk to your mom," said the deputy on video. He didn't handcuff her.
As the corporal was talking to her mom, Gray drove off in the patrol vehicle.
Her joyride wouldn't last long as she crashed into two cars and landed in a ditch off the side of the road.
Gray was seriously injured, but no one else was hurt, KPTV reports.