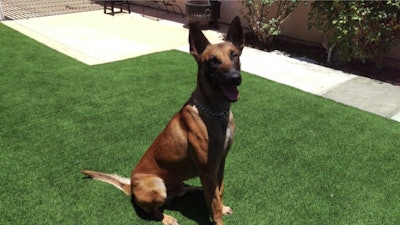 A man stabbed a San Diego police dog with a 7-inch kitchen knife during an arrest at an Encanto home Monday morning — an attack that came shortly after officers had shot the suspect using bean bag rounds.
The 22-year-old domestic violence suspect was struck four times with bean bags during the encounter at the home, police Lt. Charles Lara told reporters.
Officer Larry Adair of the K-9 unit told the San Diego Union-Tribune the 4-year-old dog named Dexter suffered a broken rib and ruptured spleen. He underwent surgery at an emergency veterinary facility and was in stable condition Monday afternoon.
Adair said Dexter is expected to recover and return to duty. K-9 personnel will slowly introduce him to "similar stimuli" to see how he reacts as part of his journey to recovery.
Dexter's handler, whose name was not released, was not hurt.