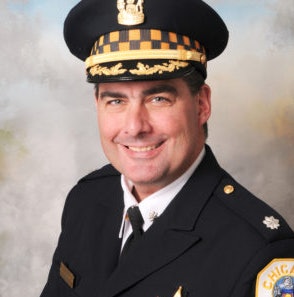 The man suspected of killing a Chicago Police commander Paul Bauer Tuesday in the Thompson Center was wearing body armor and has a long felony record, including a conviction for armed robbery, according to court records and police sources.
Earlier in the day, he was participating in "active shooter" training for members of the Chicago Police exempt ranks at the fire department's academy south of the Loop, said Larry Langford, a spokesman for the fire department.
Bauer, 53, was near the Thompson Center when he heard the officers put out a description of the suspect they were chasing on his radio and assisted.
"The commander encountered the offender and a confrontation ensued," Chicago Police Superintendent Eddie Johnson told the Chicago Tribune in an email.
A source told the Associated Press that Bauer, 53, had identified himself as a police officer and was trying to detain the suspect when they got into a physical fight and fell down a stairwell that led to a locked underground walkway. The source says the suspect shot Bauer in the head.
Police spokesman Frank Giancamilli would not comment to the Tribune on the weapon but said the suspect was wearing a ballistic vest under a heavy coat when he was arrested.
Guglielmi told The Associated Press the suspect, Shomari Legghette of Chicago, will be charged with first-degree murder, possession of narcotics and being a felon in possession of a firearm.
The 44-year-old suspect's felony record goes back to 1998, when he was charged with armed robbery. He was convicted and sentenced to 16 years in prison.
In 2007, the man was charged with being a felon in possession of body armor, possession of a defaced firearm and possession of heroin. He got three years in prison on the gun charge, records show.
In 2011, he was charged with resisting an officer and battery. He was convicted of battery and given 30 days of community service, records show.
Finally, the suspect was convicted of drug possession in 2014 and received a two-year prison term, the Chicago Tribune reports.