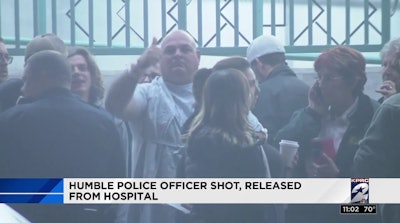 VIDEO: Texas Officer Shot in Chest, Drives Self to Hospital
A Humble, TX, police officer who was shot in the chest early Wednesday morning during a foot pursuit reportedly drove himself to the hospital after being wounded in a gunfight.
"They didn't get me," Officer Cliff Goddard said after raising a thumb to KPRC 2 cameras as he was being released from the hospital just hours after the shooting.
According to police, the incident started after officers were called just before midnight to a home for a report of a robbery.
The caller told police the suspects got away in a black Chevy Camaro. Goddard spotted the car on the way to the home and tried to pull over the driver, police said. Instead, the driver sped away, leading Goddard and other officers on a short chase, according to police.
The chase ended when the suspected robbers crashed the car into a parked vehicle. The passenger was arrested, but the driver ran, police said.
Police said when officers continued to run after the man, he pulled out a gun and started shooting at the officers. Goddard was shot in the chest and arm, police said. Two other officers returned gunfire, hitting the man in the pelvic area, police said.
According to investigators, Goddard, who reportedly ran out of the station without his body armor, drove himself to Memorial Hermann Northeast Medical Center while the other officers arrested the suspected gunman.