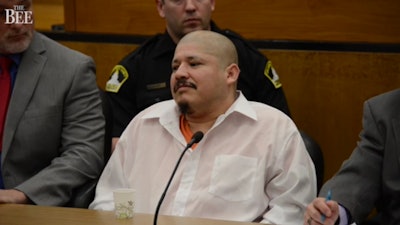 A jury convicted Luis Bracamontes Friday in the 2014 slayings of two Sacramento-area deputies, giving the self-confessed cop killer what he has insisted he wanted all along: a chance at being executed.
After about five hours of deliberation, the jury declared Bracamontes guilty of murdering Sacramento sheriff's Deputy Danny Oliver, then Placer sheriff's Detective Michael Davis Jr. The verdict came on what would have been Oliver's 51st birthday.
"Yay," Bracamontes said quietly as the Oliver verdict was read, smiling toward the deputy's widow sitting in the front row. In all, he was convicted on all of the 15 counts he faced, as well as five special circumstances.
After all the verdicts were read, Bracamontes looked at the families of the deputies and said, "Congratulations," the Sacramento Bee reports.
"I'm gonna kill more cops soon," he added as he was taken out of the Sacramento Superior Court chamber.
Bracamontes' wife, whose trial on murder and other charges was held simultaneously – but before a separate jury – is still awaiting a verdict. She could be sentenced to 25 years to life if convicted of helping him carry out his crimes.
Prosecutors say they will seek the death penalty for Luis Bracamontes.
But even if he receives a capital sentence, the chance of an actual execution in California is very slim.
Brocamontes is an illegal alien who has been deported twice.