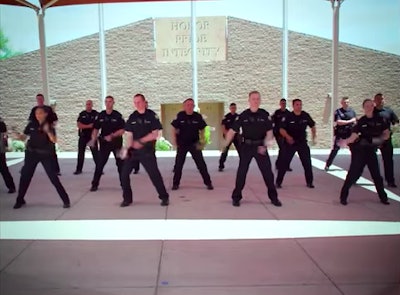 Dozens and maybe hundreds of law enforcement agencies and units nationwide are continuing to produce lip-sync challenge videos.
The most recent series of lip-sync videos started in Bexar County, TX, with Deputy Alexander Mena on June 19 when Sheriff's Deputy Alexander Mena posted a video of himself singing "Fuiste Mala" by the Kumbia Kings. The video, which was released to improve community relations with officers and aid recruiting efforts, went viral.
Here are some of the latest police lip-sync videos:
Dartmouth (MA) Police Department produced this video tribute to fallen officers.
Phoenix Police Department
Jupiter (FL) Police Department
Hampton (VA) Police Department
Lehi (UT) Police Department
Charlotte-Mecklenburg Police Department
St. Helens (OR) Police Department
There are many more police lip-sync videos on YouTube and Facebook.
Related Stories:
Video: Officers Nationwide Participate in Lip-Sync Challenge
Who Started the Ongoing "Lip-Sync Battle" Among Police Agencies?
Virginia Department's "Lip-Sync Challenge Video" "Wins the Internet"