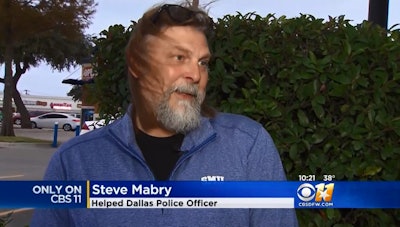 VIDEO: Crowd Records Violent Confrontation, Good Samaritan Comes to Officer's Aid
A Dallas man rushed to aid an officer involved in a violent struggle with a resistive subject—while other bystanders stood aside and captured video of the incident on their mobile phones.
Steve Mabry was driving past the unidentified officer and the subject—identified as 30-year-old Tetus Powell—as the man was trying to take the officer's TASER.
Police say that it appeared Powell was high on PCP, and someone had called 911 reporting he had entered a nearby restaurant with a gun and was "acting crazy," according to CBS News.
Mabry approached the officer and asked how he could help. While Mabry held Powell's arms back, the officer was able to take him into custody.
According to police records, he has been arrested more than 20 times in Dallas County.