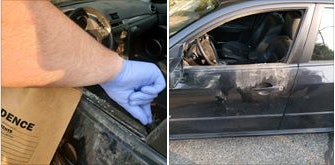 The Mount Shasta (CA) Police Department posted images and a short story riddled with puns to its Facebook page over the weekend that concluded with a serious message about the unique citizen safety matters present in a rural community.
The images showed officers collecting evidence at an apparent car break-in on Saturday, but the violator was not one that police in many cities would ordinarily suspect.
The Facebook post said that the department responded to a vehicle break in that occurred overnight.
It read, "The vehicle suffured a broken window. The responding officer was able to locate prints and hair left behind by the suspect both outside and inside the vehicle. From evidence collected and decifured, we believe the suspect is pawsibly a native to the area. The suspect is most likely bear footed and should be considered bear-armed and potentially dangerous. The suspect has taken this a step too fur with committing this grizzly crime.
The post continued, "This barbearic behavior is unacceptable in our community. We are sorry to be the bad news bearers, but plan to work teddy-iously until we can confurm a pawsitive identity. As fur as we can tell, the only item taken was a bag of dog food. The suspect may pawtentially frequent parks for pic-a-nic baskets, and is also to spread trash in normally peaceful neighbearhoods. We feel that we have bearly scratched the surface with this investigation and will keep our investigation completely transbearant for the public. Furthermore, If seen do not approach as suspect is believed to be smarter than the average bear."
The post concluded, "On a serious note, to reduce the likelihood of uninvited wildlife entering your vehicle, be sure to remove all food items and roll your windows up. For non-wildlife, bring in all valuables and make sure your vehicles are secured."