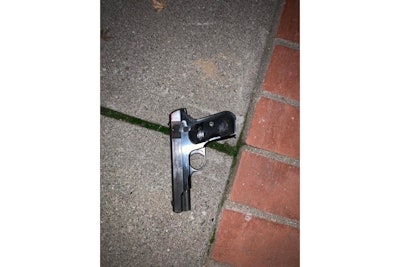 A man reportedly firing shots outside a Stockton, CA, police station was killed by officers Wednesday night. Police say he refused to drop his gun when confronted by multiple officers.
The incident began at 8:33 p.m. when the city's Police Communications Center received a call about a "shirtless white male" firing a gun in front of the police station.
Six Police Officers responded from inside the Operations Building. Police said on Facebook that the officers located the suspect parking lot. The suspect was screaming and armed with a firearm, police say.
"The officers told the suspect to get on the ground and drop the gun. The suspect got on his stomach but refused to drop the gun. The suspect continued to scream, stood back up with the gun pointing in the officers' direction, and began to run towards the officers. Five officers fired their service weapons, shooting the man. Officers then approached the man, secured the firearm, and began life-saving measures until medics arrived," the department said on Facebook.
The man was pronounced dead at the scene. No officers were injured during the incident.
All of the involved officers were placed on three-day paid administrative leave.