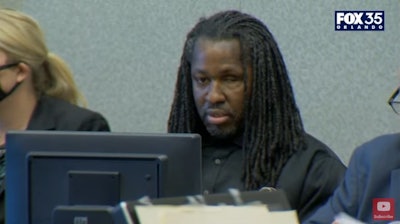 Markeith Loyd should be executed for killing Orlando police Lt. Debra Clayton, a jury unanimously recommended Wednesday.
The 12-member jury deliberated for about five hours over two days on whether Loyd should face the death penalty for Clayton's slaying, the Orlando Sentinel reports.
Circuit Judge Leticia Marques will now determine whether Loyd is sent to death row.
The same jury convicted Loyd of first-degree murder last month for fatally shooting Clayton when she tried to arrest him at the Walmart on Princeton Street Jan. 9, 2017, for killing his pregnant ex-girlfriend, Sade Dixon.
Loyd's case became a flashpoint in a statewide legal fight over the death penalty after former Orange-Osceola State Attorney Aramis Ayala announced she would not seek the death penalty for Loyd or in any other first-degree murder cases.
Former Gov. Rick Scott reassigned dozens of capital cases, including Loyd's, to the office of then-State Attorney Brad King in Ocala. Ayala fought to have the cases returned and lost.
Assistant State Attorney Ryan Williams, who helped prosecute Loyd, said he was surprised by the jury's decision because of how difficult it is to get a unanimous death penalty verdict.
Loyd's murder of Lt. Clayton indirectly caused the death of a second officer. Orange County Sheriff's Deputy Norman Lewis died in a motorcycle crash while assisting in the search for Clayton's killer.