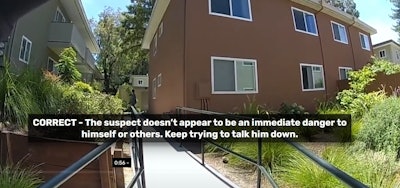 A nonprofit that defends officers in controversial use-of-force cases has launched an online police simulator to help educate the public on the rapid, life-altering decisions officers make on a regular basis while responding to crimes.
The Law Enforcement Legal Defense Fund's (LELDF) "Decision Points" police simulator uses real police bodycam footage to educate the public and community leaders on the kinds of quick decision-making skills officers must use during interactions with potentially violent individuals.
"It raises the public consciousness. It raises the need for the public to understand why the officers may have done what they did …," LELDF President Jason Johnson told Fox News. "[Users] can learn some new information about how officers are trained to respond and why. This, we think, will reduce some of the harmful misunderstandings of law enforcement."
The Decision Points simulator is supposed to help educate the public on this matter. The simulator walks viewers through different scenarios from officers' points of view and asks users to decide what actions the officer should take when the time to make a decision arises.
For example, the first simulation asks users whether an officer should Taser a stabbing suspect who is wielding a knife, shoot a knife out of the suspect's hand or move away from the suspect as police attempt to get him to drop the weapon. The simulation then tells users whether their answers are correct or incorrect based on typical law enforcement rules and best practices.
At the end of the simulation, users can click on links that direct them to answers from industry experts regarding additional questions they may have, such as, "Why not aim at the hands?" and "Are knives really so dangerous?"
To see the simulator, click here.