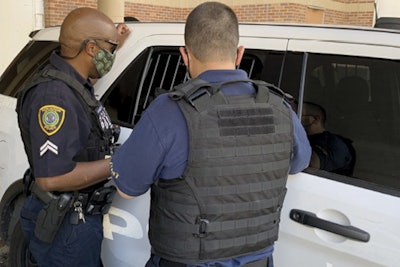 Studies show that approximately 10% of all police contacts involve persons with some degree of mental illness, or who are at the time of the contact experiencing a significant mental health crisis.
The studies cited here were conducted by Mental Health America (MHA)—a community-based nonprofit "dedicated to addressing the needs of those living with mental illness"—MHA also reports that the percentage of those in pre-trial detention with serious mental illnesses in the United States is 14.5% for males and 31% for females.
Because so many calls involve dealing with mentally ill persons, law enforcement agencies nationwide are examining ways to improve their response to calls in which one or more subjects may be experiencing a mental health crisis.
Some agencies are placing more emphasis on training officers in crisis-intervention techniques such as verbal de‐escalation techniques. Some departments have begun to create specialized mental health teams with embedded mental health professionals who can respond alongside sworn officers to emergency calls involving mentally or emotionally disturbed persons.
For example, the Overland Park (KS) Police Department has added a new mental health team—replete with "low key" uniforms of plain khakis and black shirts, unmarked vehicles, and even a therapy dog—in hopes of providing care for persons with mental illness during an emergency interaction with police.
In Tucson—where two crisis-response social workers were kidnapped by a subject when they responded to a 911 call requesting a mental health welfare check on a 50-year-old man—the police department is seeking to staff the communications center with mental health professionals who can help triage such calls and mitigate the dangers in responding to them.
In addition to Tucson PD, police agencies in cities like Boston, Miami, Las Vegas, New York, and others have taken to adopting similar strategies. These programs are in many cases modeled on a project in Houston that many believe was the first in the nation to place mental health experts in the 911 call center.
Houston 911
Following several years of research into the vast numbers of calls for service Houston PD was responding to that were coded as mental health-related, the agency's Mental Health Division developed the Crisis Call Diversion (CCD) program and got it fully operational in 2015.
The agency's website says that the program is a "multi-agency collaboration" between the centralized 911 call center—the Houston Emergency Center (HEC)—and the Harris Center for Mental Health and IDD.
"We house both our police and fire communications in the same building. When a call comes in, call-takers take the call, ask basic information, and put that into the call slip that it kicks over to dispatchers and the CCD workers," Sgt. Rebecca Skillern explains.
Skillern, who has served in a variety of roles with HPD for nearly 15 years and continues to maintain her licensing as a professional counselor, says that if the call has a mental health nexus, the CCD workers will pull that call to determine if it's something they can respond to immediately over the phone, rather than sending a unit or sending an ambulance.
"If they can resolve it over the phone they do that now," Skillern says. "If while they're talking to the individual on the phone—providing referrals and resources—they determine that they still require police or fire response, then they will send it back through dispatch to get someone in route. But they will remain on the phone with the individual until the 911 responders arrive."
Likewise, if officers on patrol arrive at a scene and discover that an individual is in mental health distress that doesn't necessarily require a police response but instead can potentially be aided by the CCD workers, they can call in specialized mental health personnel for appropriate assistance.
"They can get the individual on the phone with one of the CCD workers, and once they establish that phone contact between the individual on scene and the CCD worker, the officer can clear the scene and get back in service," Skillern says. "It's proving to be a very successful program."
By The Numbers
The CCD program in Houston has been incredibly successful. One category that can be put in terms of raw numbers is the number of calls diverted from traditional 911 response (police, fire, and EMS) to mental health only response.
From March 2016 to August 2021, the program has diverted 8,352 calls from police to mental health professionals, effectively diverting 14,477 hours of police time back to calls more squarely in the wheelhouse of law enforcement. That amounted to an estimated cost diversion of more than $1.5 million for the police department.
"Fire didn't pick up on it as quickly as we did," Skillern says. "We started the program and they didn't use it until they saw how much of an impact it was making for police."
Skillern says that between June 2017 and August 2021, the program has diverted 3,568 calls from the fire department, which is certain to have had an even larger financial savings for the city due to the vastly higher dollar amount associated with dispatching a truck full of firefighters to any given call. Skillern says that the cost savings there could be as much as $5 million in that four-plus year time period.
Indeed, having to send a police unit, a fire truck, and ambulance—moving all that equipment with all the public safety professionals inside—is needlessly expensive for someone who has a kid who doesn't want to go to school or eat their spinach.
Skillern emphasizes, however, that when mental health professionals respond to a scene and discover that police presence is needed, a call for assistance is quickly made.
"Say they get out to a scene where a person's having suicidal ideation and the person needs to go to the hospital, but the person is unwilling to go with them," Skillern says. "Peace officers in the state of Texas are the only ones who can do that emergency detention order where they take that person against their will."
Different Approaches
Agencies seeking to improve their response to situations involving individuals experiencing a mental health crisis can study a number of successful programs at a number of agencies, including Houston PD and others.
Martha Williams Deane—principal administrative analyst with the New York State Police on police-mental health response programs—has studied how response models from various agencies across the country have evolved over time.
"Police agencies have been dealing with people with mental illness for a long, long time. It goes all the way back to some of the research by Egon Bittner, who basically said that police officers are 'street corner psychiatrists,'" Williams Deane says.
Bittner—best known for his studies of the relationships between police and society—was the author of numerous notable books on law enforcement, including "The Functions of the Police in Modern Society" (1970) and "Aspects of Police Work" (1990).
"Around 1999—right around the time of Columbine—we started looking into it a little bit more because we were realizing that mental health calls were starting to go up. At the time, they were around seven to 10% of all service calls that were coming in.
"We started really digging into it and we realized that there were about three responses that a lot of these were agencies using. We ended up going to Birmingham, Alabama, because they had a unique type of model. We went to Knoxville, Tennessee, and we went to Memphis, Tennessee."
Williams Deane explains that these three models—along with several others—consisted of different permutations of having officers integrated with mental health professionals.
"In Birmingham the police department had social workers embedded in their department and they would go out on calls together," Williams Deane says. "Another was kind of mental health based specialized response—think of it like a mobile crisis unit."
Williams Deane notes that the Memphis Model—aimed at diverting individuals living with mental illness from the criminal justice system to appropriate mental health support—is now the most well known and most commonly employed.
"We paid attention to all three of these models and tried to get an idea of what we thought might be the most effective. But there are now new models—there are so many across the country that it's kind of hard to keep up with," Williams Deane says.
"Think of it this way: policing is local, right? There are some 18,000 police agencies across the country and they all have very different systems and situations to deal with. So there's not a one size fits all solution," she adds.
Williams Deane argues that each agency must figure out what system works in their locality.
"The New York State Police has the whole state of New York, so we don't have one model—every single troop in our state has to do something a little bit differently," Williams Deane says. "Everyone sort of has to mix and match and figure out what works for them."
It's an undeniable and indisputable fact that people with serious and untreated mental and emotional health problems—as well as individuals with mind- and mood-altering substance abuse problems—are frequently at the center of police response incidents.
Mental Health America says that it supports coordinated efforts to ensure that police-involved mental health crises are "dealt with in a manner that is least damaging to individuals and most conducive to a peaceful and therapeutic outcome."
MHA says that in order to achieve this objective, efforts to improve training for law enforcement and other first responders on how to respond to persons in crisis is vital, as is creating and maintaining "mobile crisis response teams with linkage to crisis respite or psychiatric urgent care centers" that law enforcement and medical professionals can pursue in concert and cooperation.
As advanced in their response to mental health incidents as each of the abovementioned police agencies is, they are all continuing to advance, learn from other best practices, and improve their own policies and procedures. Their respective communities are better off as a result of those efforts, as are the brave and honorable men and women in uniform who serve them.
For agencies that have not yet begun to work on this problem in earnest—still hoping that their police officers are successful at being "street corner psychiatrists"—plucking some ideas from places like Birmingham, Boston, Miami, Memphis, and Houston might be a good place to start.
Doug Wyllie is contributing web editor for POLICE.