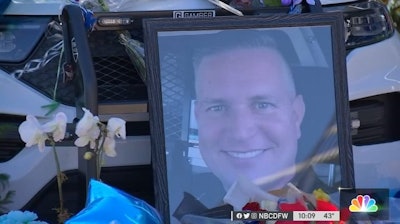 A man who police say fatally shot Mesquite, TX, Officer Richard Lee Houston II has been identified as Jamie Jaramillo, 37. He is currently facing one charge of capital murder.
Jaramillo is hospitalized with a gunshot wound that police originally said they believed was self inflicted. There are now some reports that he was shot by Officer Houston. The Mesquite Police will not confirm exactly how Jaramillo was shot, the Dallas Morning News reports.
The disturbance that Officer Houston was responding to involved Jaramillo's wife and his girlfriend, NBCDFW reports.
Police said Jaramillo's wife, 43-year-old Juventina Vasquez Bences, was booked into jail late Friday on a charge of aggravated assault with a deadly weapon after Officer Houston was shot in an Albertson's grocery store parking lot.
Vasquez reportedly pointed a gun at her husband's girlfriend during the incident, police said. She did not threaten or harm the officer but is charged with assaulting the girlfriend.
A law enforcement official familiar with the investigation said the incident started when Jaramillo went to the grocery store to see his girlfriend and was followed by his wife.