A trendy restaurant in San Francisco's North Beach was slammed on social media and the Internet over the weekend for refusing to serve three patrol officers in uniform.
ABC7 reports the officers were seated Friday and then asked to leave.
According to chef and co-owner Rachel Sillcocks, restaurant staff grew uncomfortable by their presence and asked the officers to leave, which they did.

Sillcocks said the decision to turn the officers away had nothing to do with who they were, but over the fact that the officers were armed.

"It's not about the fact that we are anti-police," she said in an exclusive interview with ABC7 News. "It is about the fact that we do not allow weapons in our restaurant. We were uncomfortable, and we asked them to leave. It has nothing to do that they were officers. It has everything to do that they were carrying guns."
"We respect the San Francisco Police Department and are grateful for the work they do. We welcome them into the restaurant when they are off-duty, out of uniform and without their weapons," the restaurant said in a statement released Saturday.
In an Instagram post on Sunday, Kristina Liedags Compton and Sillcocks, co-owners of the restaurant apologized, NBC reports.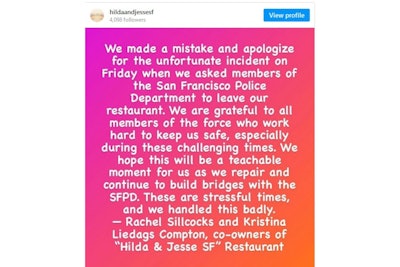 "We made a mistake and apologize for the unfortunate incident on Friday when we asked members of the San Francisco Police Department to leave our restaurant," the owners said in a statement. "We are grateful to all members of the force who work hard to keep us safe, especially during these challenging times. We hope this will be a teachable moment for us as we repair and continue to build bridges with the SFPD."
Eater SF reports the restaurant was being savaged on Yelp.
Hilda and Jesse has received nearly a thousand reviews on Yelp, with a one-star rating average. The page is currently frozen due to unusual activity.