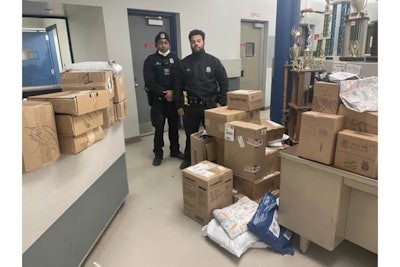 Detroit police officers likely stopped a suspected porch pirate from stealing Christmas from residents in Farmington and Farmington Hills Wednesday.
Police say at 3:40 a.m. Wednesday, officers Corey Davis and Officer Malcom Jackson made a traffic stop after a man flagged them down, saying that the driver of a black Dodge Caravan crashed, and then took off, the Detroit Free Press reports.
After stopping the Caravan, the officers noticed there were several packages in the back of the van. When they asked the driver what the packages were for, he didn't have a good answer, police said.
The packages were addressed to Farmington and Farmington Hills residents and had been reported as stolen.