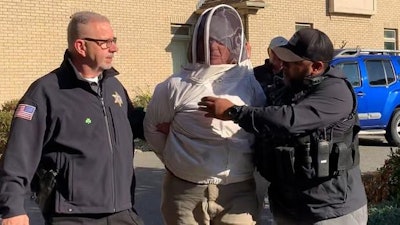 A Massachusetts woman has been charged with using bees to attack Hampden County (MA) Sheriff's Department deputies as they attempted to enforce an eviction at her residence.
On October 12, deputies said Rorie Susan Woods, 55, pulled up to the scene of an ongoing eviction while towing her bee hives behind an SUV on a trailer, CBS Boston reports.
Authorities say she flipped a hive off the trailer, causing the bees to swarm. Several deputies and bystanders were stung.
Deputies said Woods put on a professional beekeeper suit to protect herself and carried a tower of bees near the front door of the home in an attempt to stop the eviction.
Sheriff Nick Cocchi said in a statement that Woods "put lives in danger as several of the staff on scene are allergic to bees."