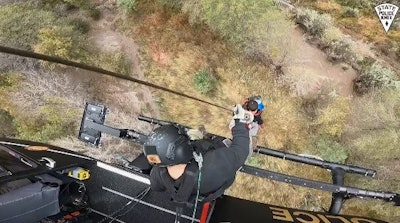 New Mexico State Police were dispatched to the Gila National Forest on the morning of Oct. 8, for a Boy Scout troop that was trapped due to flash flood waters. A total of 25 people had to be rescued that day.
The State Police helicopter had no place to land and with the fast-rising river, so they sent crews down and harnessed the kids up hoisting them into the hovering chopper, KRQE reports.
Rescue Hoist Operator Kurtus Tenorio with New Mexico State Police said the whole operation took them 17 hours to complete.
No one was injured.