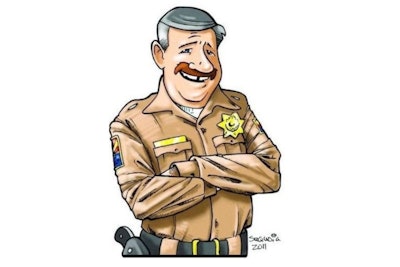 You don't have to search very long or hard to find a current article or video warning about an upcoming civil crisis—a civil war—in America. On the right and on the left, both sides seem either concerned about or even anticipatory of, such a terrible event. Civil wars are bloody. America's true "civil war," killed over 600,000 soldiers on both sides and thousands of civilians.
The reverberations of that tragedy still resonate today, but it seems the lessons learned from this period of horrific trauma are almost forgotten. Name calling, demonization, polarization, and perception of persecution all create an atmosphere that any informed observer would say was a precursor to violence; violence that would make law enforcement not only a key player, but also a key target in any actual physical conflict that would occur.
Ted Robert Gurr was a student of political and social violence, and his groundbreaking book, "Why Men Rebel," has been studied and analyzed since its original publication in 1970; it leads the way in helping us understanding the actual causes of political violence. His "The History of Violence in America" clearly illustrated that American society was certainly violent to some degree, experiencing political riots and discord, but an actual rebellion was extremely rare compared to the experience of the rest of the world.
"Democracy is the answer," you might shout out in response to our relatively low number of revolts, and to a certain extent that would be true. But Gurr's point, made over and over again, is that as long as the people believe the government is legitimate and that they have the power to change things through an election, violence will be short-circuited.
But is this the state of affairs today?
Starting in the election of 2000, and accelerating rapidly, an open disdain for the results of election and denial of the legitimacy of the winning regime, has become rampant. Both sides have claimed this, but with the amplified rhetoric since January 6 we find national tension growing exponentially. Instead of tamping down the agitation, key players have chosen to adopt open verbal warfare. Now, in my view, one's political bent is not the issue here; my concern is the peace of our country, the preservation of our freedoms, and law enforcement's successful completion of the difficult task ahead. The latter is in grave peril; ambushes, resisting arrest, absurd prosecutions, lack of critical prosecutions, increased retirements, lack of recruits, lack of funding, and a hostile media have created a crisis for law enforcement like nothing I have seen in my lifetime.
It would seem leaders would desperately seek to heal the rifts, reinforce our faith in our systems of government, and tone down the rhetoric; but instead we see a plethora of what the great historian Victor Davis Hanson has termed, "Civil War Porn." Indeed, we see it all around us: mainstream media demonizes large portions of the population; billionaire internet oligarchs brag about controlling an election with money and information manipulation; and politicians and pundits make outlandish but unopposed accusations of fascism and terrorism toward "the other side," all designed to aggravate instead of ameliorate the conflict.
Both sides talk of secession, and vocal dissatisfaction with the electoral process is becoming more and more widespread. And therein lies the root of potential violence. Gurr believed rebellions occur when people perceive their ability to change their condition has been denied and when they perceive that their ability to attain what they want is limited or gone.
America's ability to literally change our government every two years has been the "pressure release valve" for our political frustration. The election of Lincoln signaled to the South that they could no longer win through national elections, so they sought secession and started a civil war. Our politicians need to shore up the legitimacy of our elections as soon as possible and reinforce the very things the Founders established to eliminate the possibility of revolt. Pure democracy always created a tyranny of the majority, so we have a representative form of government for which the sanctity and credibility of the franchise, the vote, is essential. The demonization of constituencies (the voters) is as toxic as anything I have seen in my lifetime, and it is imperative that we mute the tone of this political discourse. E Pluribus Unum, "from many one," must remind us to work together in spite of our differences and seek compromise.
I write this hoping our law enforcement leaders will sound the alarm to the politicians, admonishing them to unify instead of divide, encourage civil discourse and cooperation, and lower our nation's temperature.
I say all this hoping the country remembers our bloody lessons learned, and avoids any more civil wars.