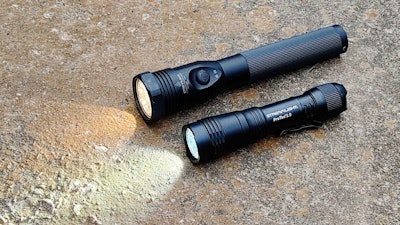 Streamlight, Inc., is known for rolling out new products constantly, but two really caught my eye at SHOT Show earlier this year and over the past several months I have been testing both the Protac 2.0 and the Stinger Color-Rite extensively. Likewise, 5.11 Tactical also launched near gear earlier this year and I have been testing the new A/T Mid Waterproof Boot.
Streamlight Protac 2.0
My everyday carry (EDC) Streamlight is a Protac 2L-X and I never leave home without it, so I was excited to see what the slightly-larger Protac 2.0 had to offer. While the new proprietary rechargeable battery makes the Protac 2.0 larger than my EDC, the light is still a very comfortable size and boasts outputs of 100, 570, or 2,000 lumens.
The Protac 2.0 projects a relatively wide beam and that made me first think there would not be much throw. However, I was wrong. The 17,300 candela rating delivers good light easily at 75 or 100 yards on the high setting of 2,000 lumens. I tend to use the Ten-Tap programing to set mine to low, medium, high to conserve battery. However, the 570-lumen medium setting performs well at moderate ranges and I find I most commonly use that and reserve the 100-lumen setting for short-range tasks. On medium, I should have a run time of 4.5 hours.
A metal sleeve, of course with the standard red O-ring, slides rearward to reveal a USB-C charging port so there is no need to remove the battery for charging. With the sleeve back in place, the port is securely protected and overall the Protac 2.0 carries an IP-67 rating to protect against dust and water intrusion. Plus, it feels just as rugged and durable as all my other Streamlights.
It may be large for all-day EDC pocket carry, but actually it slips in and out of a pocket easily when you need your hands free for other tasks. In addition to the handheld model, the Protac 2.0 family also includes a weapon's light version and one also that is worn as a headlamp.
Streamlight
Protac 2.0
Length: 6.10 inches
Weight:8.25 ounces
Output: 100, 570, 2,000 lumens, and 17,300 max candela
Case: 6000 series machined aircraft aluminum with Type II MIL-Spec anodized finish
Battery: Streamlight SL-B50 Protected Li-Ion USB Rechargeable Battery Pack
Features: Glass lens with anti-reflective coating, all openings O-ring sealed, tail switch activation.
Streamlight Stinger Color-Rite
Streamlight uses a high 90 CRI LED to improve color rendition in the Stinger Color-Rite. The idea is to produce a more natural look to the illuminated area when compared to many traditional LED lights that often have a blue cast. The norm for traditional daylight is 5,600 K and this version of the Stinger comes in with a slightly warmer light output at 3,000 K.
The ability for the high-CRI light to clearly show differences in color was very apparent during pollen season in Georgia. I used the Protac 2L-X and Protac 2.0 to illuminate the tops of pine trees and honestly did notice a blueish cast that muted the colors when compared to the Stinger Color-Rite. With the Stinger Color-Rite the various shades of yellow, brown, green, black, and gray were all illuminated and easy to see. Streamlight touts this light as being good for investigations or crime scene work because of that more-accurate color rendition.
However, there is a little mental adjustment needed. When your eyes first see the warm light, you are taken back to the days of incandescent bulbs. That in turn immediately made my brain think "dim," but that was not the case.
Against other high-lumen lights, the Stinger Color-Right on paper might not seem all that powerful by offering selections for 140, 275, and 500 lumens. But, at the 500-lumen mark and with 17,500 candela this light has good reach. In addition to the good candela number, the light has a tight and well-defined center spot to help with the throw distance.
Streamlight reports the 90-CRI light with the warmer color output has advantages out on the street as well, claiming that it shines through auto glass and produces less glare when doing so. I tested it on my personal vehicles, and I did get a sense that I could see into the passenger area better with this light.
Another plus for this light is that it is compatible with existing Stinger chargers.
Streamlight
Stinger Color-Rite
Length. 8.41 ounces
Weight: 12.4 ounces
Output: 140, 275, 500 lumens, and 17,500 max candela
Case: 6000 series machined aircraft aluminum with non-slip rubberized comfort grip
Battery: 3-cell, 3.6-volt, 2.6Ahr Ni-MH sub-C battery
Features: Unbreakable polycarbonate lens with scratch-resistant coating, O-ring sealed, three power settings plus strobe.
5.11 Tactical A/T Mid Waterproof Boot
A few years ago I wore a favorite pair of boots so long that eventually I wore a whole in the soles, which I was immediately reminded of on days when it rained. So, I truly appreciate dry feet. For about two months now I have been testing 5.11 Tactical's A/T Mid Waterproof Boot, and it is good.
I've crossed creeks, trudged through flooded portions of my driveway, and even kept a foot planted in the water for an extended period of time while fishing a local pond from the bank. My feet have yet to get wet. I thought maybe some water could leak in around the edges of the boot's tongue if not laced tight enough, but there have been no such troubles yet.
The boot's being waterproof really is just an added perk, an improvement on the existing A/T Mid boot. What really impressed me while testing this boot is the ability to support a load. True it may be intended for healthy, fit, younger guys to be able to bear their body weight and lots of added gear weight. But, for a bigger guy, I get the same support advantage.
I truly now understand why 5.11 Tactical brags on its All Terrain Load Assistance System (ATLAS) and how the plate offers support and weight distribution under foot. Plus with the Ortholite comfort foam footbed you've got pretty good comfort all day, no matter how much you stand or walk, and on any surface or terrain. The ASTM outsole has an aggressive tread that I have found works great even on wet grass, mud, slick floors, and anywhere you may venture.
Where some boots leave you feeling as if you have a huge chunk of rubber on the bottom that you mindfully have to direct, such is not the case with the A/T Mid Waterproof and I imagine the same is true with any of the other A/T Mid varieties. Its rubber toe cap is solid, and the heel counter helps when you take long strides. The sole and every element of the boot combine into a sleek package that feels more like a light hiker or a tennis shoe but can deliver the traction, durability, and comfort of a duty boot.
At first, I did have concerns the boots would be hot since they were waterproof. Well, that's not the case since the boot is constructed with waterproof breathable mesh. All in all, this is a great boot.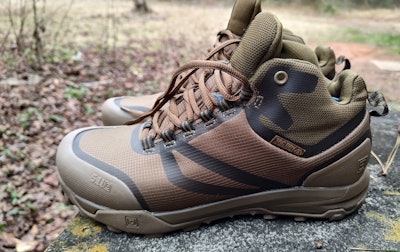 5.11 Tactical
A/T Mid Waterproof Boot
Sizes: 4 to 14, regular or wide
Colors: umber brown, dark coyote, or black
Features: 5.11 Tac Dry waterproof and blood borne pathogen resistant membrane, dual density PU midsole, full rubber outsole with ASTM slip and oil resistance, waterproof breathable mesh upper
Streamlight's Protac 2.0, bottom, and Stinger Color-Rite are drastically different lights but both deliver nicely on expectations. Credit: Wayne Parham