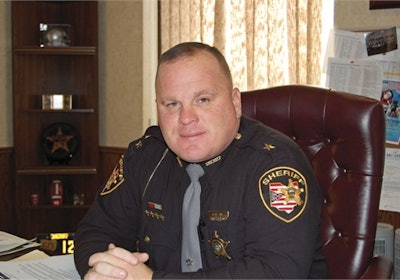 When Terry Thompson let loose the 56 exotic animals including lions and tigers he kept on a farm in rural Zanesville, Ohio, and committed suicide, it was up to Sheriff Matt Lutz of the Muskingum County (Ohio) Sheriff's Office to determine what to do. "I made the decision we were going to shoot the animals so they couldn't get away," says Lutz. For his decisive action that prevented injury, the sheriff has been named the January 2012 Officer of the Month by the National Law Enforcement Officers Memorial Fund.
"I had been to Mr. Thompson's farm several times and knew the animals he had there. I knew once they were out of the pens they were out of control," says Lutz. He had already gone home when he got the call at 5:30 p.m. on Oct. 18, 2011, but he quickly went back to work, driving to Thompson's property to set up a temporary command post and direct the effort. Officers searched for the animals by car to maintain safety and relied on citizens' reports of sightings.
"You don't go through training for this," says Lutz. "We have a lot of hunters on our agency, but you're never trained to shoot exotic animals and have to deal with that."
What you can do is know your jurisdiction and be prepared to respond to any potential problems in the area, he advises. The sheriff also recommends forming partnerships with neighboring agencies, as his department has, and being aware of any resources you can call on for different situations.
When asked if he would have done anything differently, Lutz says he probably would have set up a second dispatch center phone line to field calls from people who tied up the line with complaints about his decision. But he wouldn't have changed anything else: "As far as the decision, no."
Critics have said the escaped animals should have been tranquilized instead of killed, but it's easier said than done. The next morning, Lutz went with a vet and several deputies to tranquilize a big cat they had seen in the woods, but it was too aggressive. "To think of trying that with 49 animals at night, no way," he says. A bear, three leopards, and two monkeys survived and were taken in temporarily by the Columbus Zoo.
Ohio laws allowed Thompson to legally own his menagerie that included bears, cheetahs, a wolf, and many endangered species, even though he reportedly kept them under poor conditions. Jack Hanna, the well-known Director Emeritus of the nearby Columbus Zoo, consulted with Lutz during the incident and fully supported his handling of the difficult situation. "He put us in this position," Lutz says of Thompson.
Lutz has mixed emotions about his recognition as the NLEOMF Officer of the Month. It was just part of the job, he says, and many other people were involved in making sure no one was injured or killed.
"I accept it on their behalf," says Lutz. "The honor for me is the commissioners submitted my name. And anything related to the National Law Enforcement Officers Memorial is close to my heart. Both an officer from my department and my father are on the wall."
Gov. John Kasich has since pledged to create greater restrictions on the ownership of exotic animals in Ohio and provide better resources for enforcement. For example, a hotline has been created for citizens to report abuse and poor treatment of exotic animals.
"The last thing I wanted was for exotic animals roaming our county to kill people or livestock. What we had to do was necessary," says Lutz. "Maybe Jack Hanna's ideas will have some influence on getting something changed; that's our biggest hope. The biggest victory is we were able to take care of it."