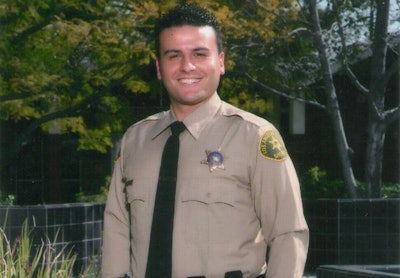 A Los Angeles County Sheriff's Department reserve deputy, who works by day as an attorney, detained a suspected serial arsonist on Monday and halted a four-day fire-bombing spree.
Deputy Shervin Lalezary was coming off an eight-hour shift at about 3 a.m. Monday, when he spotted a blue Dodge minivan driven by Harry Burkhart near Fairfax Avenue and Sunset Boulevard. The reserve deputy recognized the driver from surveillance video released by the LAPD.
Burkhart, a 24-year-old German national with travel papers from Chechnya, may have been protesting his mother's deportation, when he allegedly began fire-bombing vehicles last Friday, reports the Los Angeles Times.
After recognizing the minivan, Deputy Lalezary activated his lights and notified the Joint Arson Task Force. Los Angeles Police officers arrived as backup for the deputy, who then detained Burkhart for questioning. The deputy conducted a cursory search of the minivan, which was impounded by LAPD officers, Sheriff's Spokesman Steve Whitmore told POLICE Magazine.
At 1:40 p.m., Burkhart was booked into a local holding cell by LAPD officers. Burkhart has been charged with one count of arson of an inhabited dwelling.
Deputy Lalezary, a 30-year-old Beverly Hills real estate attorney, qualified in December to ride alone on patrol. He serves the sheriff on nearly a volunteer-basis at a salary of $1 a year as a Level 1 reserve with arrest and weapon-carrying powers.
Investigators believe Burkhart may have set as many as 53 fires, mostly in vehicles. Burkhart apparently said, "I hate America," while being detained, reports ABC News.