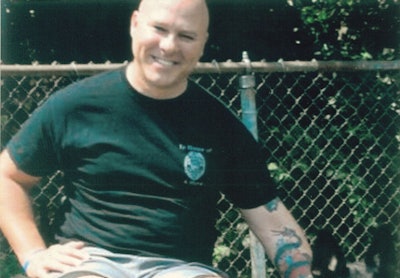 Patrolman James Kuzak Jr. with the City of Clairton (Pa.) Police Department was shot and paralyzed from the waist down when he responded to a home invasion robbery. But he hasn't let his injuries keep him from working to regain the use of his legs and rejoin law enforcement. For his actions and his perseverance, Kuzak has been named the July 2012 Officer of the Month by the National Law Enforcement Officers Memorial Fund.
It was just before 11 p.m. on April 4, 2011, when Patrolman James Kuzak Jr. and fellow Clairton Police Department officers Matt McDanel and Jon Steiner arrived at a residence on Miller Street for a possible home invasion robbery in progress. It was believed a family was being victimized inside. The three officers split up to cover all exits. Kuzak went to cover the back door. That choice would soon change his life forever.
Initially, the back door opened a crack and then slammed shut. Kuzak walked away to let the other two officers know what had happened. Officer Steiner followed around to the back, but stayed just behind the corner of the house as Kuzak again walked onto the deck leading up to the back door. That's when the door swung open and Kuzak saw a muzzle flash. He went down.
"Within seconds I was lying on the deck," he remembers. "I started assessing. I knew I didn't have my weapon because the first shot hit me in my right forearm and took my weapon from me. While I was lying there I realized I couldn't move my legs and I realized I had lost my microphone from my radio from gunfire so I couldn't contact anybody for help. Then I realized that I was bleeding heavily from my chest."
And he realized he would not let himself die there.
Steiner and McDanel hadn't seen what happened. They heard the shots but thought Kuzak had fired them. When Steiner saw one of the suspects running across the backyard, he took chase, and McDanel followed. They didn't know Kuzak was hit.
Without a working microphone, the downed officer shouted as best he could to the officers that he was wounded. They heard him and returned to help. It was a good thing they did. By the time he reached Mercy Hospital in Pittsburgh, Kuzak had lost two-thirds of the blood in his body.
His injuries were so severe, they didn't know if he'd live through the next 48 hours. If he did, doctors said he'd never walk again. But Kuzak was determined to beat the odds. He was shot five times, and one bullet entered his chest and lodged next to his spinal cord, injuring but not severing it. He's still going to physical therapy several times a week to regain the use of his legs.
"Right now I'm considered a paraplegic and I'm confined to a wheelchair. However, I have been walking with the assistance of braces and crutches now at physical therapy," Kuzak says. "My goal is to get my right leg back to full usage so that I can at least walk with one brace on and go from there."
If he can't improve enough to go on patrol again, Kuzak will take on a less physically demanding assignment at his agency or teach in the academy to pass on the experience he's acquired after 18 years in law enforcement, including the incident that almost killed him.
"Just because you are shot does not mean you're going to die. It didn't get me down and it didn't stop me. You have to fight through anything," he says. "And just because you're experienced doesn't mean you're not going to be the one who has to encounter something like this."
In the meantime, Kuzak is speaking to academy classes and other police officers about his experience and perseverance. He is also getting training in critical incident stress debriefing (CISD) to provide support to his peers and their families. When he's certified he'll be joining the same team that visited his family when he was injured.
Members of the Clairton Police Department along with friends and family recently organized a fundraiser to help pay for Kuzak's physical therapy. They surprised him at the event by announcing that he'd been named the NLEOMF Officer of the Month, which he says rendered him uncharacteristically speechless.
"I can't even express how much it means to me," says Kuzak. "To know that my guys still keep me in mind and take care of me, it's a wonderful thing about my department." He's determined to be back at work with them as soon as possible.
Related: