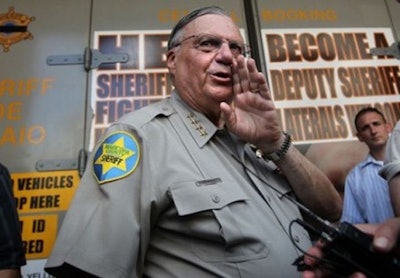 Maricopa County, Ariz., Sheriff Joe Arpaio defended his suppression sweeps and immigration enforcement practices in court today, testifying that he doesn't arrest people "because of the color of their skin."
Sheriff Arpaio was called to testify in a Phoenix courtroom in a civil trial alleging he has engaged in racially motivated policing.
On Tuesday, he was asked about a statement in which he called undocumented immigrants "dirty," reports the Associated Press.
Arpaio said the proper context was needed to understand that statement, adding that if a person were to cross the border on foot over four days in the desert that person "could be dirty. That's the context on how I used that word."
The trial stems from a class-action lawsuit brought by the American Civil Liberties Union, which claims Sheriff Arpaio "acted on racially charged citizen complaints and requests for operations that he forwarded to his senior staff." The complaints criticized people based on "little more than the color of their skin or the fact that they were speaking Spanish," according to an ACLU statement.
Related:
Sheriff Joe May Testify In Racial Profiling Trial
Feds Sue Sheriff Arpaio, Claiming Discrimination Against Hispanics
Judge Warns Both Sides to Stay Current in Sheriff Joe Profiling Case