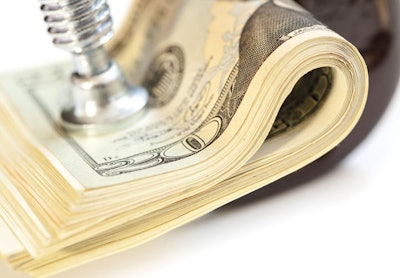 If you've ever had insomnia or worked rotating shifts you've probably seen late night infomercials. The announcers on these things have mastered peddling everything from lighted slippers to miracle bras. One of my favorites features a guy tanned and toned with his six-pack abs glistening in the sun, standing next to a Ferrari and a perfect Barbie babe. He expounds the wisdom of his proprietary program where you can make millions by sitting home, eating bonbons, and maybe spending an hour per day on your computer. That's some people's idea of sound economic advice.
But law enforcement agencies with budgets strained by the current recession can't rely on such economic snake oil. They need a strategy for maximizing their purchasing power and stretching every dime.
At its core, finance operates on the following very basic principles.
You cannot spend more than you make without going into debt.
Don't go into debt if you can't afford to make the payments.
If you don't want to or can't go into debt and you need or want to buy something beyond your means you have two choices: make more money and/or spend less on other things.
These principles are not exclusive to any particular sector. They apply to our personal budgets, to non-profits, to multi-million dollar corporations, and to governmental agencies.
Law enforcement agencies have been hit with a recession double-whammy of slashed budgets and increased expenses. But unlike corporations dealing with the recession, law enforcement agencies can't just cut service. In fact they often face higher demands on services.
The following is a look at some ways that the average law enforcement agency can stretch its budget.
Reevaluate Your Needs
One of the best ways to reduce expenses is to take a hard look at where your money goes and determine the necessities.
Pay Only for What is Needed
This probably sounds like a no-brainer, but contracts and services that haven't been recently reviewed suck money out of your budget faster than the lastest super hot 50HP vacuum.
Look at service contracts first. Compare the cost of the contract vs. actual expenses. Often, if you add up what the service fee would cost, it is less than what you pay under contract. Also, take a close look at what you are paying for. When technology changes and your service doesn't, you could be paying more than if you signed up as a new customer.
Reviewing cost for services received should be done on a regular basis. A little bit of time and effort makes sure you are getting the most service for the least cost.
Share with Others
Talk with other agencies in your area and see if they have similar equipment needs. If they do, negotiate a memorandum of understanding (MOU) for sharing the cost and use of equipment.
For example, let's say your agency has a fingerprint machine that sits idle 60% of the time and another nearby agency needs the same machine 30% of the time. This is an excellent opportunity to share the expense on this equipment.
When calculating cost sharing don't forget to factor in ongoing maintenance agreements, wear and tear, and the equipment's useful life. If there are several agencies in your geographic area, consider starting a multi-agency equipment co-op.
Volunteer to Test Something
New technology isn't cheap. It costs manufacturers plenty in research, development, testing, marketing, and manufacturing. If you see an emerging technology that could benefit your agency, talk to the supplier about a win-win option. Offer to be a beta tester for the company's product.
Your agency gets the equipment at no charge and in return you promise to test the heck out of it and tell them the good, the bad, and the ugly. Additionally, you could agree to give testimonials about the product to other agencies. If your policies allow, offer to put the company's logo and link to its Website on your home page.
The best companies to approach about beta testing are the ones in your region. Do some research and find out what companies are in your area code or at least within 250 miles of your jurisdiction.[PAGEBREAK]Negotiate
Times are tough all over. Equipment suppliers are not exempt. Most are experiencing decreased sales because many of their most reliable customers are not in a financial position to buy. In the big-picture scheme of business there can be no doubt that some profit margin is better than no profit margin. Talk to vendors, explain your situation, and see if they are willing to negotiate a lower price. They may just take you up on it.
Rent-to-Own
If the out-right purchase of equipment is out of the question, consider leasing. Be sure to check your agency's policy on leasing first, but this can be a great option. The equipment is delivered and used immediately, while the agency pays an annual or monthly payment.
Sometimes you can even turn in used equipment and get a credit toward the lease of a newer model. Check out the terms carefully and make sure you know of any penalties for early return or damage.
Buy Used
Check with other organizations and see if they have good equipment that they no longer need. You can buy good used equipment at a fraction of the cost of new stuff. Also check out the government surplus lists.
Become More Efficient
Look at ways to use your precious resources more efficiently and effectively. Can you do more with less? Consider Canyon County, Idaho. The county agencies have turned green and as a result they have put more of the other green stuff back in their budget.
Canyon County as a whole is looking at fleet cost savings through the purchase of hybrid vehicles and up-fitting patrol vehicles to run on E85. "By initiating projects that have resulted in immediate cost savings, reduced emissions, independence of foreign fuels, and conserved energy usage in our own environment, we are successfully moving forward to a long-term solution," says Canyon County fleet manager Mark Tollman.
"We are systematically reducing our older vehicle issues by implementing hybrid fuel technologies, and will soon be a green fleet countywide in the foreseeable future," he adds.
Moreover, Canyon County implemented a tire program where nitrogen is used in tires. Tollman says this change increases safety, mileage, and the life of the tires, while decreasing maintenance or replacement of tire sensors.
If changing your fleet's infrastructure won't work, think about other ways to conserve fuel and vehicle costs. Reducing idling time equals savings in fuel and vehicle longevity. And have your fleet department make sure that tires have the proper pressure at all times.
Your Trash Could be Somebody's Treasure
Equipment that is no longer working for your organization may be a considered the magic pumpkin coach by another. Determine what "outgrown" but viable and properly operating equipment can be sold. Then find a buyer. This is a win-win; your revenues increase and the buyer's expenses decrease.
Take it to the Streets
Let the public you protect know that you are trying to raise money to provide new services or purchase new equipment. They may step up to help. Lasso this support into a grassroots fundraising effort where the customer takes charge. Donations will quickly fill the coffers from local businesses and community groups and youth organizations may hold bake sales and car washes for your benefit.
And don't let the momentum stop at a one-time saturation effort. Harness that volunteer energy and community support to start up a foundation that will raise additional funds year round. Offer a lunch with the chief of police in exchange for a donation of a certain level. Hold a golf tournament. Let the volunteers' creativity flow, and you might be surprised at the dough they harvest.
Check your Prices
If your agency charges for providing security services, check the numbers and make sure that the charges to the customers cover the cost outlay. Make sure the cost of the deputies or officers, including variable and fixed benefits, are added into the equation. Don't forget about incorporating overtime, fuel, vehicle, equipment, materials, and supplies into the rate.
Review Fees
Often overlooked are fees charged for reports, civil process and the like. A market survey of surrounding agencies can tell you if you are right in line or woefully underpriced. Sometimes fee increases are restricted by local law so don't forget to check for increase limitations.
Local Grants
Look beyond your current grant sources. Often overlooked are local foundations that may be more than willing to fund a grant for an investment of policing equipment used to keep their community members safe.
Talk it Up
While attending seminars or classes, the participants often learn more from networking and talking to others. Build relationships with your peers in the law enforcement community. Ask them what has worked for them. Why reinvent the wheel when somebody has one that works perfectly?
Wendy Dutenhoeffer is a financial officer with the Bonneville County (Idaho) Sheriff's Office. She has 22 years of experience in finance.
Related:
5 Tips for Funding New Patrol Equipment