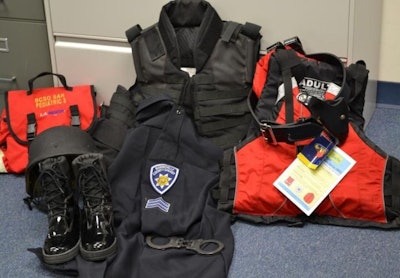 Economic times are tough and most law enforcement agencies' budgets have been tightened and slashed beyond recognition. In law enforcement, having the right tools can mean the difference between life and death. So what should you do when you've been told there isn't enough money to purchase equipment?
Re-allocation is often the solution. The five following tips outline a budgetary fiscal-fitness program that can move equipment budgets from flabby to fit.
Adjust
The toughest thing to do when writing a budget is getting estimates as close to reality as possible. If budgets are out of shape, mostly likely the problem can be traced back to inception. When the budget was first created, the original amounts were placed using the S.W.A.G. (Sophisticated Wild Ass Guess) method and then neglected for years.
In just a few minutes, you can compare your budget amounts against actual expenditures. After the initial evaluation, spend more time to figure out what amounts are the best estimates for each line item. Areas that are continually underspent should be reallocated to cover areas that are always over budget. Once the overspent areas are adjusted, any remaining underspent areas can be reallocated to cover the cost of new patrol equipment.
Rethink How You Do Business
Offices are expensive to run, but can be streamlined by asking, "Is there a more economical or cost efficient way to operate?" Nothing is off limits. Scrutinize everything. Can't think of where to start? Try staring by asking these questions:
Are you spending more to maintain printers than to replace them? The average printer service call is $75. Why spend $75 or more to fix what can be replaced for $50.
Is it more cost effective to buy a more expensive printer that will have a much longer, useful life and cost far less per printed page?
When was the last time you renegotiated contracts? Contact your phone and Internet company to make sure you're getting the best service for the price. These companies never call to remind you that you're overpaying.
Are you using inferior equipment or supplies? Latex gloves are a great example. They're important, but costly. If you cheap-out on the gloves and get an inferior product, officers will use more to get the job done. For example, a pair of gloves may seem like a great deal at 15 cents each, but when two pairs are needed because the first one always rips, is it really cheaper than the stronger, safer 25-cent glove?
Tell a Story
What should you do if your agency's budget is already fit-as-a-fiddle and you still need equipment? Do the math and tell a story. Numbers tell a story better than a frequent flier being booked back into jail. Unlike the felon, numbers don't lie. Let them do the talking for you, but you have to do the work.
When presenting a case to the city council, a statement like, "We need a new patrol car" won't be received as well as, "With the age of our current fleet, it's imperative that we receive funding for three new vehicles. Currently, it costs the city more in repairs over a two-year period than it would to purchase a new vehicle." Then back it up, "On vehicle 842, we've spent $16,500 in repairs over the past two years. After this investment we still have an unreliable and costly vehicle. If this trend continues, next year's costs will have exceeded the cost of a new vehicle by $2,750."
Think Small
When you hear "grants," your mind most likely jumps to JAG (Justice Assistance Grant), COPS (Community Oriented Policing), BPV (Bullet Proof Vest), or similar federal or state programs. Often overlooked are local foundations that may be more than willing to fund an investment in equipment to keep their community members safe. If they have specific requirements (such as funds for the dive team) and your agency needs tactical gear, don't discount this option.
However, be careful not to supplant. What is supplanting? Funds that are already committed for grant purposes during the grant period. In other words, most grants prohibit grantees from using the funds to replace state or local funds that would have been dedicated to the item without the grant.
Ask Your Community
Fundraising is always an option. The Internal Revenue Service considers charitable contributions to governmental agencies (including counties and municipalities) as tax-deductible under section 170(c) (1). This means the public is more likely to support the local sheriff's office if they can use the contribution as a tax deduction.
Look at your community and determine the areas where people would be most willing to donate. If you need K-9 vests, this is a perfect fundraising opportunity. People love dogs. The media loves dogs. Dogs are far easier to promote than LIDARs. Another option is to consider starting a non-profit foundation. They will take some work, but a lot of it can be delegated to volunteers who support your agency. The Ventura County (Calif.) Sheriff's Foundation website is a great example.
Wendy Dutenhoeffer is a financial officer with the Bonneville County (Idaho) Sheriff's Office with 22 years of experience in finance.