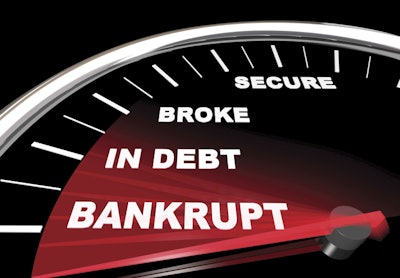 Vallejo, Calif., police detective Mat Mustard remembers when his force was at full strength—158 sworn officers for this Northern California city of nearly 116,000 residents. That was 2006. In 2008, the city of Vallejo filed for bankruptcy protection.
The Vallejo Police Department now counts 90 sworn officers. There are six detectives—down from 16—and the department no longer maintains a narcotics unit. Because of these cuts, many property crimes go uninvestigated. Community policing was also eliminated and school resource officers were removed from public schools. In addition, police headquarters now maintains public hours only three days a week.
"We've lost 45% of our sworn cops," Mustard says. "But the call volume hasn't changed. So we're not providing the service the citizens deserve, and it's because we don't have the staff to do it."
The city of Vallejo has since emerged from municipal bankruptcy, the fiscal nuclear option, but the damage has been done. Vallejo Mayor Osby Davis told the Los Angeles Times in August that the city "didn't have an option." Earlier this year, Davis' Harley-Davidson was stolen from the City Hall parking lot.
In June, Vallejo's misery found company. Three other California cities—Stockton, Mammoth Lakes, and San Bernardino—also filed for bankruptcy protection, triggering new fallout for public safety in those cities where law enforcement cuts have already been made.
The bankruptcy filings swallowed by these California cities have left plenty of indigestion for police unions, city officials, municipal bond investors, and credit rating agencies. Filing bankruptcy allows a city to stave off lawsuits from its creditors, but it also brings a stigma that could chill future growth. It has already brought higher crime in Vallejo and Stockton.
Taking the Hit
Like a rolling blackout on an electrical grid, fiscal distress has slowly crippled the police departments in these cities, bringing loss of pay, lower benefits, and layoffs. Experienced officers have bailed out through lateral transfers, and the agencies' recruiting efforts have been stymied. A retention problem carries its own costs, says Ron Cottingham, president of the Peace Officers Research Association of California (PORAC).
"The average cost of replacing a seasoned officer with a rookie is about $130,000 for recruiting, interviewing, processing, academy training, and 18 months of a probationary period," Cottingham says.
In Vallejo, officers lost 16% of their wages and were asked to pay more for benefits. When the city filed for bankruptcy, officers made additional concessions, agreeing to a 6% pay cut, a more restrictive healthcare plan, and changes to the way sick time is calculated, Mustard says.
The Stockton Police Department has also seen drastic cuts to its operations. Its officers face wage and benefit cuts following the June 28 Chapter 9 filing by the city of 291,000 residents. The Stockton Police Department has lost 25% of its force in recent years.
In 2008, Stockton was budgeted for 441 officers. Today, the agency counts 325 sworn personnel. The narcotics unit was cut. Downtown bicycle patrol, school resource officers, and community policing were cut. The city eliminated the positions of the part-time retired officers who monitored Stockton's 200-camera surveillance network, leaving the cameras unmonitored.
Losing Experience
The Stockton PD also has experienced its own brain drain.
"We're turning in to a young department," says Officer Joe Silva, Stockton PD's public information officer. "Officers are going to Southern California and seeking out other agencies. We're losing a lot of experience."
Sgt. Kathryn Nance, the new president of the Stockton Police Officers Association, is negotiating with city leaders who have proposed cutting the wages of city employees, including officers, and eliminating retiree health-care benefits. Retaining additional pay for senior officers has been a sticking point on a bankruptcy contract, Nance told the Stockton Record.
Drastic cuts are also expected to arrive for the San Bernardino Police Department. "There's nothing that's not on the table," says Steve Turner, president of the San Bernardino Police Officers Association and a homicide detective.
The Inland Empire city of 211,000 has suspended payouts for sick and vacation time. At least 67 city employees have quit since the Chapter 9 filing, including several who took payouts of as much as $300,000.
San Bernardino Mayor Pat Morris told Los Angeles TV station KTLA the city will consider outsourcing police services to the San Bernardino County Sheriff's Department. The department's 294 sworn officers police a city with 211,000 residents.
Since 2009, San Bernardino's employee unions have given $10 million in concessions. The police union agreed to a wage freeze and reduced retiree medical benefits—an officer with 20 years of service would get $200 a month. The union also gave up a uniform allowance of $950 per officer.
Lavish Spending
Elected leaders have blamed public employee pensions, in part, for causing the recent California insolvencies, but the explanation runs much deeper. Financial misreporting, excessive spending, and multi-million-dollar development flops have played more significant roles.
In San Bernardino, city leaders spent lavishly on projects such as a rapid-transit bus line and the Regal Theater. In Stockton, public funds were spent on a luxury hotel, promenade, and marina the city has offered back to the state. Officials in Mammoth Lakes filed bankruptcy because the city couldn't afford to pay a $43 million breach of contract judgment won by a developer.
In 2011, several other U.S. municipalities filed for bankruptcy, including Jefferson County, Ala., which became the nation's most expensive municipal bankruptcy at $4.1 billion. The Jefferson County Sheriff's Office canceled holiday DUI checkpoints and overtime pay at the courthouse, reports the New York Times. A county jail in Bessemer refurbished at a cost of $11 million sits empty and unused because the county can't afford to pay the guards. That year, Central Falls, R.I., also went bust.
When Vallejo filed for bankruptcy four years ago, public pensions weren't part of the negotiations, Mustard says. But since then political tides have shifted, and city leaders in fiscally strapped cities say public treasuries are saddled with unsustainable liabilities from public pensions and benefits.
A pointed example of the bankrupt cities' pension obligations came courtesy of a former Stockton police chief, who retired after only eight months on the job with a $204,000 annual pension, or 92% of his salary for the rest of his life.
In June, Rhode Island's state Legislature approved $2.6 million to Central Falls to fund pension payments to police and fire retirees that were cut by a state-appointed receiver. Police pensions were reduced by 55% from fiscal year 2012 to 2016. The former police chief, Joseph Moran III, initially claimed he was owed $559,000 in lost salary, but reduced his claim to $75,201 in August.
Mayors in two major California cities—San Jose and San Diego—won elections in June by banging the pension-reform drum. The measures addressed pension reform with differing approaches to lowering city obligations to retired public employees—San Jose's drew an immediate lawsuit from the San Jose Police Officers' Association.
Public pensions have remained mostly intact, and municipal bond investors say they may be left holding the bag. In August, bond insurers challenged Stockton's eligibility for bankruptcy. A unit of MBIA and Assured Guaranty criticized Stockton for failing to seek concessions from its largest creditor, the California Public Employees' Retirement System (CalPERS).
San Bernardino, from a cash-flow standpoint, is in worse shape than Stockton, city leaders say. The city faces a $45 million deficit, compared to Stockton's $26-million shortfall, and has less revenue, according to city officials.
More To Come
Observers say additional municipal bankruptcies may be on the way.
In four Michigan cities, state-appointed emergency managers give the final word on spending in Benton Harbor, Pontiac, and Ecorse. A state financial review team oversees the finances in Detroit.
Two cities in Pennsylvania may see bankruptcy as a way out of their financial mess. Harrisburg, Pa., may try another Chapter 9 filing; a federal judge denied its petition in November due to a state law prohibiting cities of its size from declaring bankruptcy. That law expired July 1.
A second Pennsylvania city, Scranton, took a drastic step in July to avoid bankruptcy when Mayor Chris Doherty decided to reduce the salaries of officers and firefighters to $7.25 an hour, or minimum wage. Doherty retracted the decision after union attorneys promised to sue.
City officials in Compton, Calif., have announced that their city will run out of funds by Sept. 1, which could make Compton the fourth Golden State city to file for bankruptcy in 2012. Officials in Los Angeles, Oakland, Montebello, and Victorville have also issued financial warnings for their cities.
Declaring a fiscal emergency can be a legal step cities take as a precursor to declaring bankruptcy. In Los Angeles, Mayor Anthony Villaraigosa declared a fiscal emergency on June 6. A city budget passed five days earlier had cut $134 million in lowered city contributions to the city's two massively underfunded pension plans. But Eric Rose, the attorney representing the city's police union, says he is confident the city will avoid a Chapter 9 filing.
In Stockton, the city's declaration of a fiscal emergency raised red flags with the Stockton Police Officers Association, who viewed it as an attempt to break its employment contract.
"The bankruptcy court basically said that we have an enforceable contract and that the declaration of fiscal emergency can't be used to rip it up," says David E. Mastagni, a partner with Mastagni, Holstedt, Amick, Miller, and Johnsen. "It's very clear under California law that any impairment of a contract has to be temporary. So if you're going to take away this money and never take it back, that's a permanent impairment."
Whether other cities file for bankruptcy will partly depend on whether the economy improves, thus providing additional tax revenue for cities that have been hit hard by the loss of sales and property tax revenue due to a slumping real estate market and depressed retail sector.
Related:
Municipal Bankruptcies: One Agency's Dilemma
Calif. Cops Brace for Bankruptcy Cutbacks
Stockton Cops May Face Wage, Benefit Cuts Due To Bankruptcy