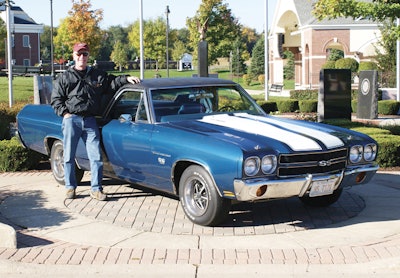 For most officers law enforcement is a calling, and leaving the job is not an easy transition. The rush of adrenaline you get on a hot call, the camaraderie you feel among your peers, and the satisfaction of helping people and putting away the bad guys are tough to replace.
Whether you enjoy your retirement, either initially or after an adjustment period, depends on your particular situation when you separate and how you choose to live your life after you leave.
Making Ends Meet
Raul Saldana is a retired sergeant from the Hermosa Beach (Calif.) Police Department who now works part-time as a background investigator for the nearby city of Inglewood. But it wasn't a money issue that caused him to return to the workforce after retirement. "I went back to work because my wife said if I didn't she was going to kill me," he says. If only everyone could be so lucky.
Whether you truly retire or start a second career could be a financial decision. It's preferable to have the choice, and not be forced into working for a living after your law enforcement career ends. And in this day and age, it's unwise to simply assume that your agency benefits will be enough to keep you comfortable in retirement, especially considering how long people live and how young most officers retire.
Mike Galloway retired as a lieutenant from the Mesa (Ariz.) Police Department to start Galloway Asset Management, specializing in financial planning for public safety workers. It still frustrates and amazes him that so many officers fail to prepare for retirement. Especially because with more time on your hands, you'll likely spend more money, not less, he says. "It's the same everywhere. They all have robust benefits through the pension system, municipality, and sometimes the union. But most all don't understand how they work and so when they leave they make mistakes of ignorance," opines Galloway. That's why selecting a financial advisor who does understand these intricacies is key, he says.
Although he doesn't understand why so many law enforcement officers wait to plan for retirement, Galloway believes one reason is that they're used to doing everything on their own and they're unwilling to ask for help. But another likely reason he says is that it simply sneaks up on them.
"I didn't think about retiring when I signed up at 22," says former Cleveland Officer Joe Paskvan. "They should make it mandatory to set up a Roth IRA. Kids don't think of that stuff." And he worries for those currently working in law enforcement whose benefits will likely change, and not for the better. "Many agencies are going to a hybrid plan. Mine is a defined benefit," Paskvan says. "Now you get a partial pension but you better set up your own Roth IRA, 401K, or what have you."
And financial concerns don't end there. Even if you're healthy, medical bills can also add up.
"I'd be in a jam right now if I'd not planned and prepared for retirement," says Steve Soha, who was forced to medically retire after multiple injuries and knee replacement surgery. He and his wife are both disabled and unable to work, and they still have children living at home to support. Fortunately, their foresight is paying off.
"Health insurance is a big deal," says Paskvan, who retired from the Cleveland Division of Police in 1999 when his daughters were 10 and 13. "At first it was $100 per month, then up to $1,200. Now it's down to $800 or so because my girls are out on their own and it's mostly for my wife. I don't even use it because I go to the VA, but that's not the case for everyone."
In addition to seeking information about all available benefits and possible investments, Galloway recommends realistic budgeting while you're on the job, which includes never counting on overtime to pay the bills because it's so changeable. And even if you're just about to retire and are woefully behind in planning and saving, it's better late than never. "Life is not over when you leave the PD," says Galloway. "It's just another chapter in the book. The last can be your best or miserable depending on the decisions that you make."
Missing the Job
Even if you feel completely financially secure after retiring, that likely won't keep you from wishing you could still go on duty at least sometimes to do the fun stuff. But of course it's human nature to remember the good times and gloss over the parts of the job you might actually be glad to leave behind.
Russ Schaefer retired as a tactical lieutenant with the Chicago Police Department after 32 years on the force. "I miss it, yeah," says Schaefer. "As they say, I don't miss the circus, but I miss the clowns."
Joey Battaglia, who retired from Chicago PD three years ago after 25 years, misses the adrenaline but not the stress and the politics that caused him to leave the job. "I miss the 20 minutes of superfun in a day," he says. He recently noticed a drunk driver on the road, notified law enforcement, and then took chase himself to aid police. He still finds it difficult to walk away from incidents. "I should take my own advice and not play the police, just call it in," he concedes.
Steve Soha medically retired from the Phoenix (Ariz.) Police Department. He had hoped to become a chief at a smaller department in his later years and still smarts at the loss of his career, but says having established a life outside of work helped him move on. "Having only police officers as your friends is not a great plan," says Soha. "You need things outside of your little sphere at work. In my case, when that world was taken away because of physical problems, if I didn't have friends outside of that it probably would have caused me problems mentally."
Having Time to Enjoy Life
Law enforcement officers are used to not just keeping busy but having a purpose; staying mentally and physically active is key, say police retirees.
For Saldana, his part-time job as a background investigator is fun. He only left law enforcement because staying would have adversely affected his pension. He likes that he again works with like-minded "law enforcement types" he enjoys being around. And he still has time to travel, which he didn't while in law enforcement. "If I want to take a month off, I do," he says. Now the history buff takes trips all over the country and regularly visits his family in New York.
Both Galloway and Soha say their children still living at home keeps them busy and fills much of their time, which made it easier to leave law enforcement behind. And now that the job isn't taking up most of his energy and focus, Soha has noticed a big difference. "I'm able to appreciate and enjoy my family now," he says. Although initially he and his wife had to get used to being around each other so much. Soja also has time for reading, which is a benefit he didn't expect to enjoy so much.
Paskvan enjoyed staying home with his young kids while his wife worked after he retired. But even so, he was glad he later started teaching as a firearms instructor at the academy to fill the rest of his time, especially because he continues to enjoy teaching now that his kids have left home. These days he also goes to the gym, meets with friends for coffee every week, and babysits his toddler grandson.
Schaefer never had children, but he doesn't need them to keep him busy. He and his wife moved outside of Chicago when he retired and he's spent the last nine years remodeling their large home. He's still not finished. He also owns two classic cars he's refurbishing and belongs to the West Gear Grinders car club, meets with fellow retired officers each month, and meets with a group of childhood friends every Friday. He worries about some of his former co-workers who sit in front of the TV or computer at a loss for what to do with themselves.
"Meet others, get involved in things, volunteer," advises Schaefer. "There's a lot of time and a lot of things that will make you feel good. When you retire you've got to step back and say, 'You know what, I need to open myself up to other things now.' There is another life out there."
Battaglia agrees. For him, retiring from Chicago PD has meant living life on his own terms. "Retirement is great," says Battaglia. "The calm is there. It's peaceful." He still does consulting work, but he makes his own schedule, and it doesn't require him to constantly be on alert the way he was while a police officer. He appreciates that he can wake up when he wants to in the morning and that he doesn't have to worry about the politics that caused him to leave policing. "Retirement is where you want to get to," Battaglia says. "But when you get there, you still wish you were younger."