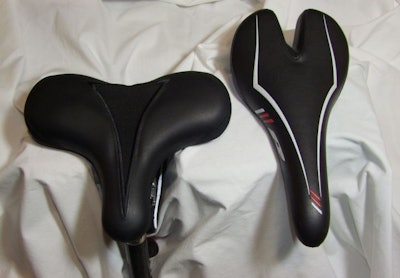 The extended riding of bicycle patrol can be grueling, especially if you don't have a comfortable saddle. The Storm Quest and Comfort Carbon saddles from RideOut Technologies deliver on this promise.
The Storm Quest, which is constructed from waterproof Kevlar, is built for the rigors of bike patrol and other prolonged daily excursions. RideOut's saddles are built to reduce pressure points, chafing, and bike-induced inflammation for both male and female riders, according to the company's Website.
Intially, I thought the Storm Quest seat was small, especially after looking at photos on the Website. However, it was very comfy on my Fisher stationary bike.
The Storm Quest and the other Comfort saddles are designed to be minimalistic. Less is good when it comes to bike saddles, not just to reduce weight, but to reduce chafing and wear on the body. How the saddles fit and contour to your rear end, and ultimately how it supports you, matters most, according to Jeri Rutherford, RideOut's head seat designer.
The patented "crossbow" supports make the Storm Quest and the Comfort Carbon saddles unique. These carbon-fiber supports flex, absorbing and dispersing the road shock through the entire seat. The thermal-molded base plate is designed to fit the contours of the human body. Lastly, multi-density foam is used to give you a saddle that's comfortable for the long haul.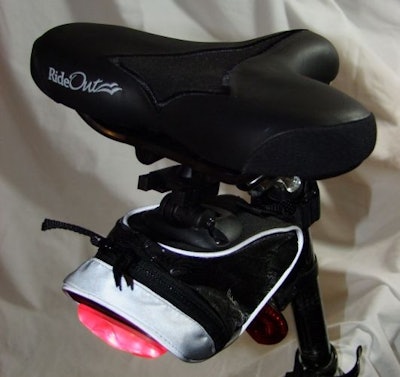 When you first get the saddle, lower its height about a half an inch. These saddles sit higher on the stem than a standard bicycle saddle. I also needed to raise my handlebars because the Storm Quest changed how I sat. Making this adjustment took stress off my shoulders.
Overall, I like the Storm Quest. It rides well, especially during endurance riding on a stationary set-up, which can cause your butt and inner thighs get sore more quickly than during street riding. I didn't have this issue with the Storm Quest. Like shoes that fit, having a bicycle saddle that fits helps make the ride and day go better.
Also, the design of the Storm Quest allows for a smooth exit from the saddle. This means you can exit the bicycle quickly should you have to move to a foot pursuit.
Another feature I like about the Storm Quest is its Urban Touring Bag. This optional add-on attaches to a bracket on the Comfort saddles. It comes with built-in, three-function flashing red LEDs that are bright and will draw a motorist's attention to add to your safety.
If you're looking for a new bicycle saddle for your patrol or personal bike, consider RideOut Technology's Storm Quest. You'll appreciate the comfort and ride it gives you.