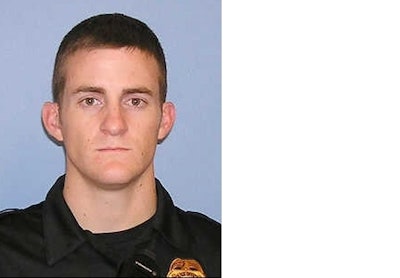 Anyone wonder what happens to a police officer "after" he or she is killed in the line duty? Unfortunately, I had the sad opportunity and yet the privilege to find out firsthand. Several days ago, 27-year-old Glendale (Ariz.) Police Officer Brad Jones was shot in the line of duty by a suspect who isn't worth the dirt we walk on.
From the moment his "brothers and sisters" arrived on scene, he was never alone. While the fire department treated him, transported him to the hospital and during his final moments here on Earth he was surrounded by family and fellow officers as they said their goodbyes.
When he left the hospital, he had to be transported to the Medical Examiner's (M.E.) Office. Escorted the entire way by officers from St. Joseph's Hospital to the M.E.'s Office, he was never left alone.
A Glendale Police officer was posted around the clock at the M.E.'s Office. Brad was never alone.
As Brad arrived at the M.E.'s Office, every available officer from South Mountain Precinct in Phoenix, where the M.E.'s Office is located, lined the streets with overhead lights flashing, standing outside their cars and rendering a hand salute. It was 3:30 a.m. Brad was never alone.
Glendale officers stood watch with Phoenix Police officers constantly checking if they needed anything—perhaps a sandwich, something to drink or merely a short break. Whether it was Glendale or Phoenix police, Brad was never alone.
Finally after many hours, it was time for Brad to be delivered to the funeral home in preparation for us all to say our final goodbye.
I was privileged to be part of an estimated 20 police vehicles that came together at an impromptu moment from South Mountain Precinct to pay what respect we could to a fallen hero, father, and husband.
We lined Seventh Avenue from Jefferson to Van Buren streets at the beginning of rush-hour traffic with overhead lights flashing, and officers standing in unison at hand salute.
As the procession passed, an estimated 20 personnel from the Phoenix PD's crime lab lined the streets to pay their respects. Brad was never alone.
The procession was led by two Glendale motorcycle officers, two Glendale patrol cars and two Phoenix patrol cars. Our fallen brother was not going to be left alone—not even for a moment—as the procession drove to the city of Surprise, Ariz.
Ever wonder what happens to a police officer "after" he or she is killed in the line of duty? Respect … total respect is what happens to an officer paying the ultimate sacrifice, as it should be.
Tonight a wife and two little girls go to bed without a husband, father or daddy to share their lives with. Someday though, they will all be reunited.
During this time here on Earth, Brad is not alone. He never was and never will be.
Editor's Note: Phoenix Police Sgt. Phil Roberts' tribute to Officer Brad Jones became a popular post on Facebook.
Related: Ariz. Cop Shot by Probationer Was Helpful, Friendly