Body-worn and in-vehicle video evidence capture systems are still some of the most popular products at IACP. This year a number of industry leaders introduced new models with new features.
Axon (www.axon.com) made one of the biggest splashes at this year's IACP when it announced that it was adding ALPR capabilities to its Axon Fleet 3 in-vehicle video system. Because the ALPR system uses artificial intelligence and is integrated into the features of the Fleet 3, Axon believes it can reduce the cost of existing license plate recognition solution to a price point where agencies can afford to equip many more vehicles with the technology.
The company says its ALPR is the industry's first AI-powered system built from the ground up using an "ethical design and privacy-centric framework" and incorporating guidelines created by Axon's AI and Policing Technology Ethics Board. Axon CEO Rick Smith says the company is working to provide more law enforcement vehicles with the technology because of the benefits it provides in keeping communities safe and solving crimes while also addressing privacy concerns raised by civil libertarians. "That's why we chose to announce this technology a year ahead. We believe that will give us time to have more conversations very publicly with everyone from ACLU to police leaders like the IACP and with many of our customers," he explains.
BodyWorn by Utility (www.bodyworn.com) announced the release of Ultimate Witness, a tool for viewing, managing, sharing, and exporting cases and media evidence.
Bounce Imaging ( www.bounceimaging.com) does not make a body camera for officers, but it does make a body-worn system for K-9s. At IACP the company displayed the Cave Canem (beware of the dog) system, which offers a 360-degree view and features stabilization to eliminate blur. The company customizes the mount for each dog's vest. When needed the system can be taken off the dog and used on a pole camera and even as a throwable surveillance tool.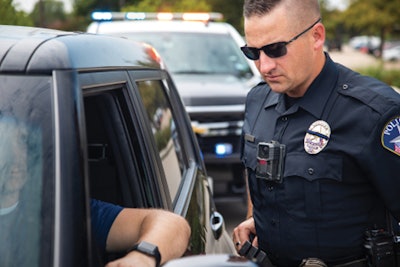 Motorola WatchGuard (www.watchguardvideo.com ) was one of two major body camera makers to announce a new model with a detachable battery. The WatchGuard V300 offers a swappable 12-hour battery pack for longer shifts. Motorola Solutions says the new WatchGuard V300 is shipping in the second quarter of 2020
Panasonic (www.security.us.panasonic.com) announced the launch of Panasonic i-PRO Sensing Solutions, a joint venture of Panasonic and investors. The company's Public Safety Solutions Division introduced the next generation BWC, which features a user-swappable 12-hour battery. Other enhancements include an easier-to-read status screen and a very secure mounting system.