Tools for training officers in a wide variety of skills were very popular at this year's International show.
Some of the most innovative products on the show floor were training simulators for instructing officers in use-of-force/firearms proficiency and emergency driving.
Meggitt
NSENA VR (www.nsenavr.com) showed its full virtual reality law enforcement use-of-force and firearms training system. The system uses virtual reality headsets for a full 360-degree 3D experience and requires less training space than conventional simulators.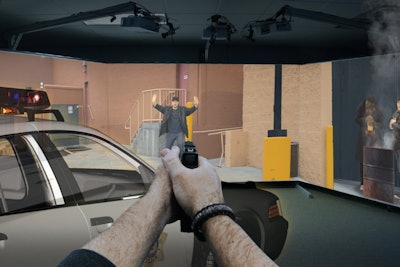 Ti Training (www.titraining.com) and VirTra Inc. both announced the development of new features for their use-of-force/firearms proficiency simulators.
Ti showed an augmented reality (AR) headset for its Recon (reconfigurable) simulators. The AR Immersive Reality system features RealMax Augmented Reality Headsets. This AR system allows users to see the scenario being displayed on the screen and aim their weapons like they would in a real incidents, but it also lets the instructor add 3D images of objects such as patrol vehicle and walls into the training arena. My experience was that even though I knew the patrol car was not actually there, I instinctively walked around its visual representation and not through it. In addition to objects, the headsets can be used to introduce fire, smoke, or rain into a scenario. Multiple headsets can be used at the same time so that all students working a scenario will see the same things.
VirTra's (www.virtra.com) announced that its newest system will offer hyper-realism in the form of 4K high-definition images. Watching a demonstration I was struck by how the enhanced visual quality of the system made it easier to see small details. The 4K visuals will help officers learn to detect subtle indicators of danger that could save their lives on the street. VirTra has announced that it has received orders for the 4K system from the Federal Law Enforcement Training Centers (FLETC).
Driving simulators were more prevalent at this IACP show than they have been in a long time.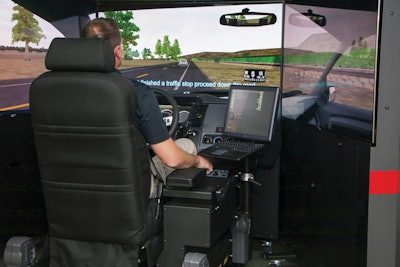 L3Harris (www.l3driver.com) demonstrated its new PatrolSim driving trainer. The latest innovation in the L3Harris PatrolSim is EyeTracker, a machine learning feature that monitors where the driver is looking and how their head is positioned during the scenario. This can be used to correct bad habits and warn students that they are taking their eyes off the road when using equipment.
VirTra also demonstrated a driving sim at IACP. The VirTra Driver Training Simulator (V-DTS) is an immersive system that offers a variety of popular law enforcement vehicle models. Trainers can adjust traffic density, hazards, and weather. The system even gives students the feel of the road using hydraulics.