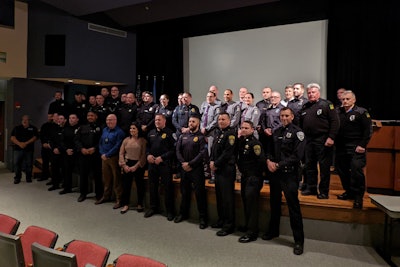 Earlier this month, more than three dozen law enforcement professionals from throughout New York State's Capital Region graduated from a weeklong training presented by the Troy Police Department Emotionally Distressed Persons Response Team (EDPRT) and held at Hudson Valley Community College.
Participants in the program received special training to deal with emotionally disturbed persons, suicidal subjects, people exhibiting irrational behavior, and individuals suffering from psychiatric crises.
Graduates included personnel from Cohoes, East Greenbush, Rensselaer, Troy, and Waterford, as well as deputes from the Rensselaer County Sheriff's Office, Saratoga County Sheriff's Office, troopers with the New York State Police, and officers with the Hudson Valley Community College and Rensselaer Polytechnic Institute (RPI).
The Hudson Valley Community College website describes the program as aiming to prepare first responders with the tools and tactics to "effectively deal with someone in emotional or mental distress, while preserving that person's dignity, as well as ensuring their safety and the safety of the community and other team members."
With this latest batch of graduates, there are now more than 250 people in the area specially trained to perceive indicators of emotional disturbance as well as symptoms of mental illness, and deal with such incidents with appropriate communication/de-escalation skills and increased emotional intelligence.
Following the recent graduation, Captain Matt Montanino—who has coordinated this training for Troy PD since 2006—discussed the program.
Basic Building Blocks
The 40-hour training consists of traditional classroom lectures as well as role-play exercises. In addition, students leave the class with knowledge about available resources to which people in mental health crisis can be directed.
Among the presenters are people from Rensselaer County's Mental Health Department, Samaritan Hospital, St. Peter's Health Partners Group, Rensselaer Veterans Services Agency, as well as individuals from the community at large.
"Chief Tom Gibbons from the Albany VA Police Department teaches about veterans issues and services provided to the vets by the local VA hospital," Montanino says. "Retired Sergeant Eric Weaver teaches several of the classes—the main class being polices officers own mental health, trauma, and suicide in law enforcement as well as his own mental health story."
Further, the class has speakers from the community on one of the mornings—people that have or have had a mental illness—not experiencing any type of crisis or challenge at the present time—who talk to the officers about their mental illness.
Montanino explains, "They'll explain everything that's been going on with them about their medications, how long they've had the illness, as well as letting us know when they've had police contact—whether it's been a good police contact or bad police contact."
Montanino says that these firsthand accounts really help officers—and the agency as a whole—better understand those contacts.
Slowing Things Down
"The biggest part of the program is recognizing somebody that may be experiencing a mental health challenge and basically slowing the conversation down, taking your time to try to talk, find out what's going on, and showing empathy to people," Montanino says. "Showing that you're concerned and that you care and you want to help somebody goes a long way with people."
Montanino says that officers with this training help to guide people in crisis toward the professional mental or medical assistance they really need. This includes information about the local Rensselaer Veterans Services Agency, local homeless shelters and other area services.
"Would it be great for mental health professionals to go on these calls? Absolutely. But realistically right now, people call the police for everything. The police are the first people called for most things—whether it's something major or minor," he says.
Return on Investment
Montanino says that while no cause-and-effect line can absolutely be drawn, he believes that the program has probably helped to contribute to the decrease in use-of-force incidents recorded by the agency in recent years.
"We answered about 963 mental health calls last year," Montanino says. "Out of those 963 mental health calls, we had one officer injury and we had two consumer injuries which were very minor things—like a cut or an abrasion or something like that."
In all those calls a TASER was used just a handful of times and an officer had to present a duty weapon only twice.
Another benefit to the training is that officers who have graduated the program are more aware of their own mental health
"Officers have a better understanding that, you know, we ourselves are not exempt from mental illness because we are people too," Montanino says. "I think the statistic is like one out of every five persons have some type of mental health illness or mental health challenge. So, when you have a room of 20 officers, that's four people raising their hand if you use that statistic."
Every Day Opportunities
Troy Police Officer Kevin Ray—who has been on the department for about five years—talked about an experience with a woman ("Joan") that he had after graduating from the EDPRT program.
"'Joan' has a condition that in this instance leads her to believe her home contains rats and bugs that attack her leaving scratches on he when she sleeps," Ray explains, adding that the marks on her body are plainly self-inflicted, and that her family reassures her are not wounds from bugs or rats.
Ray says that he was called to the home and found upon arrival that "Joan" was in an agitated state, ranting incomprehensibly.
"I asked her to sit down with me, take a few breaths, and slow down so I could listen to her," Ray explains. "She did so. Then, rather than dispute her claims, I told her, 'I can't imagine how scary that must be.' I asked her if she would allow me to help and she agreed. I said, 'Let's go somewhere you can be safe, and 'Joan' willingly went with me to the hospital where she could get help from an appropriate resource and get the treatment she needed."
Ray concludes, "The knowledge I gained helped me help this person in a time of need. This is only one of many instances where this training can be utilized to help persons in crisis or people with mental health conditions."
An Increasing Need
According to Mental Health America, approximately 10% of all police contacts involve persons with some degree of mental illness, or who are at the time of the contact experiencing a significant mental health crisis.
This effort in "Upstate" New York—which traces its inception back nearly two decades—is not unlike many others throughout the country, which could (and perhaps, should) be mirrored elsewhere.
For example, an article in the December issue of POLICE revealed how the Houston Police Department developed its Crisis Call Diversion (CCD), which helps to triage calls with a mental health nexus have appropriate responders—including medical, if necessary—sent en route.
There are countless others models to mirror, and limitless reasons to do so, but Troy PD's EDPRT is a great place to start.