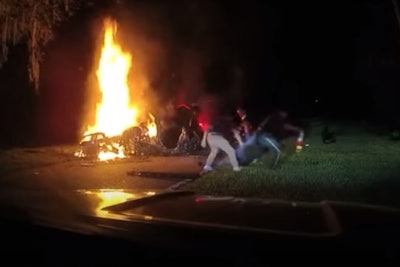 Earlier this month, two deputies with the Charlotte County (FL) Sheriff's Office who came upon the scene of a vehicle fire were credited with saving the life of a man trapped inside.
According to the agency's blog, Deputies Garrett Parrish and DFC Bryant Ovalles Vasquez had to battle through flames that witnesses described as "unbearable." Partially extinguishing the five-foot-tall flames long enough to get to the man, the deputies used a knife to cut the man's seatbelt—which was wrapped around his neck and shoulders—and with the help of a Good Samaritan pulled him to safety.
Sheriff Bill Prummell said, "The job of a deputy is to act bravely in the face of danger, regardless of what lies ahead. These young men did just that. I couldn't be prouder."
The driver of the vehicle—whose name has not been released and listed at present to be in critical condition—is expected to survive.
This incident—caught on dramatic dash-cam video—offers an opportunity for training reminders about police response to burning vehicles.
Explosive Hazards
Gas tanks really can blow up—though not usually like a bomb. The bigger the vehicle, the bigger the gas tank, and the more danger from an explosion. Also keep in mind that large commercial vehicles may contain hazardous materials—in addition to fuelwhich when set alight can emit toxic fumes.
Shock absorbers—many of which contain pressurized nitrogen gas as well as hydraulic fluid—can violently detonate when they reach critically hot temperatures, sending shards of shrapnel in all directions. Similar dangers are presented by shocks built into some vehicle bumpers. Tires can also "explode" and send chunks of burning rubber flying.
Electric Vehicles
Roughly 1% of all vehicles on American roadways are electric, and the belief that they tend to catch on fire more easily than a gas-powered car is mostly myth, but fires in "environmentally friendly" cars do happen, and when they do, they're not particularly friendly.
First and foremost, lithium-ion battery fires in electric cars are significantly harder to put out than gas fires. In fact, EV batteries can burn for hours and even suddenly reignite after being extinguished. In addition, EV fires are typically too hot and too tenacious to be put under control with the typical ABC type extinguisher in the trunk of a squad car.
Further, the National Transportation Safety Board said in a 2020 report that "fires in electric vehicles powered by high-voltage lithium-ion batteries pose the risk of electric shock to emergency responders from exposure to the high-voltage components of a damaged lithium-ion battery."
NTSB issued recommendations in early 2021 calling for EV manufacturers to write vehicle-specific response guides for fighting battery fires, but those recommendations have not yet been turned into actions.
Ring of Fire
Every year, vehicle fires—almost always caused by collisions and crashes—kill hundreds of motorists and their passengers. In almost every instance of a vehicle fire, the first arriving public safety personnel are not firefighters—they're police officers.
When an officer arrives at the scene of a vehicle engulfed in flames, several sometimes competing priorities are immediately presented.
Are there people trapped inside the burning vehicle?
Will the fire spread to nearby vehicles and/or structures?
Can approaching and/or passing vehicles become somehow involved?
If no one is in immediate peril, how and where can a perimeter be established?
Vehicle fires cause over a billion dollars of property damage losses every year. Police should help keep those property losses to a minimum, but not at the risk of officer safety.