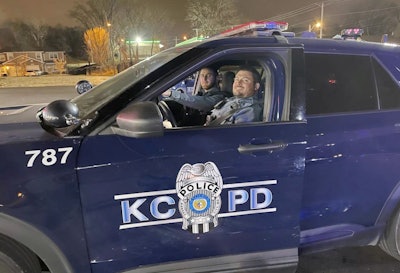 When police recruits complete the academy, their learning has really just begun. Once they hit the streets, they rely on field training officers (FTOs) to shape their skills and abilities. Those FTOs must be teachers, coaches, mentors, and role models all rolled into one.
Think of an FTO as a football coach shaping, leading, and preparing a new member of his team. He or she needs to be prepared and bring the right skillset and methods to the table for best training the new recruits. But those FTOs must also be trained, meaning someone must teach the teacher.
At the Kansas City Police Department (MO), Sgt. Phil DiMartino fills those big shoes.
The night shift sergeant previously served seven years as an FTO and now is one of two instructors in the department's FTO school. The department currently has approximately 50 active FTOs. The last FTO school had 40 attendees, which was one of the highest attended schools in recent years, and the next FTO school is set for early spring in 2023.
DiMartino says there has been a shift in how recruits and FTOs interact compared to when he was a new cop in field training 15 years ago.
"I couldn't go into the convenience store if my FTO was in there, I had to wait till they were done. Then I could go in. If there were a group of officers talking, I was not speaking unless I was spoken to. That was kind of the way it was back then," explains DiMartino.
Now those recruits are more incorporated as part of the team, he points out, as he explains there is a cultural shift in that direction.
"That's what we're trying to encourage. When we ask these kids why they're staying, it's because they like being part of a team, they like being part of something. So, the earlier we can bring them in on that, the better. I have found that to be super beneficial," DiMartino says. "However, my expectation still is 'Hey, you still have to earn it'."
At the Kansas City Police Department, the FTO training school lasts for four full days and involves classroom instruction, practical exercises, watching and critiquing videos, and several guest speakers throughout the week. DiMartino says the training emphasizes to the new FTOs the benefits of teaching over evaluating. The school is also rounded out with leadership training, plus the FTOs are taught about the department's Tactical Longevity resiliency program.
With his background and experience both as an FTO and in training FTOs, DiMartino provides 10 tips that will help any FTO. Those tips are:
1.

Patience is The Virtue
This is the foundation of your training program. Frustrations will boil over and the training will be corrupted if we don't stay patient. They will get lost, they will forget their belt keepers, they will ask why. Fix it, forgive it, and answer the questions. Above all else, be prepared to do it again tomorrow.
2.

Bend But Don't Break
Adapt, adapt, adapt. Every FTO has a vision for how they are going to train their recruits. The vision quickly becomes skewed by the unfortunate reality of unpredictability. Be ready and willing to change your teaching style. Always adapt to the recruit's needs, but never break your expectations. We may have different ways to get there, but achieving the standard is still paramount.
3.

Direct the Feedback
A good FTO question has always been, "How do you think that went?" But an even better FTO technique is to be specific with your questions. "How do you think that search went?" By doing this we can start to analyze specifics of the recruit's performance. If utilized correctly you will get to the point where the recruit begins to ask for direct feedback.
4.

Mirror the Expectation
This is simple. Do not ask anything of your recruit that you would not do yourself. If you expect your recruit to get to work early, then you should be at work early as well. If you keep the recruit late to do paperwork, then you should be there late with the recruit.
5.

Deploy Your "What If?"
We cannot choose which calls come our way and some nights will be slow. You have a limited number of shifts to train the recruit, so maximize that time. Always have "what if?" scenarios prepared. Find your best examples, build them out, and use them regularly. You will find that cops love examples, so start using them early.
6.

Coach 'Em Up
"I will never, ever cut a player who comes out to play for me," said Head Football Coach Herman Boone, who led the 1971 T.C. Williams High School football team to a 13-0 season and a Virginia state championship. This is the exact mentality you must approach in your training of recruits. Coach them and teach them before you ever evaluate. Coach them like they will be part of your roster and they will play next to you. We can evaluate all day and a recruit can just meet the minimum, but what a missed opportunity to maximize their potential. Coach the policy, coach the technique, coach the mindset, coach every part of the game.
7.

2 Ears for a Reason
Listen to your recruit. Listen to their needs, their gripes, what works and what doesn't. When you start to listen and approach the training phase with an open mind, the limitations are taken off. Your recruit feels comfortable in expressing what they need to succeed, and you feel confident you can train them accordingly.
8.

It's Okay to Have a Personality
You've heard of the airport test, well how about the police car test. Ten or 12 hours riding next to someone can be excruciating if there is no personal conversation. Get to know your recruit and let them get to know you. You both become more invested in the process. The recruit does not want to let you down, and you won't want to let the recruit down. Finding common ground can be tough, but the FTO mindset is to be uncommon, so find something.
9.

It Ain't That Deep
The little things are important. The insignificant things are not. You must remember when you are training, is a specific issue worth confronting? Part of this process is giving the recruits enough room to grow on their own. Sometimes you will have a better and more efficient way to do things, but the recruit might find their own way that's also effective. Let them try it out before just defaulting to correction.
10.

Stay in Control
Do not yell and do not get upset, ever. Be in control of your emotions. You will need to be firm, and your demeanor must be stern at times but never let your message be lost through uncontrolled emotion. Beyond that, you can influence attitude and effort, but you can never control that within a recruit. Do your absolute best when it comes to training, but also know there will be times where it just does not work. Remember the decisions outside of you are beyond your control. You will stay in the FTO game much longer if you can remember to stay in control.