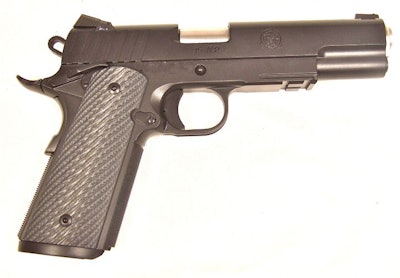 AdeQ Firearms Co. introduced the Vigilum full-sized, 1911-style pistol as its first handgun offering at the Enforcement Expo trade show in Las Vegas.
The Vigilum is being offered with features that include a rail system, five-pound match trigger, adjustable low profile night sights, 30LPI front strap checkering, optional blended magazine well, G10 grips, beavertail safety, match barrel, bushing and link, lowered and flared ejection port, according to the company.
The pistol is offered in the standard 1911 chambered .45 ACP, as well as .40 S&W and 9mm. The guns will be produced at the company's Tampa, Fla., facility.
Vigilum is a Roman military term originating from the word Vigiles or more properly the Vigiles Urbani ("watchmen of the city") or Cohortes Vigilum ("cohorts of the watchmen") who were the firefighters and police of ancient Rome.
For more information, visit the AdeQ Firearms Web site.